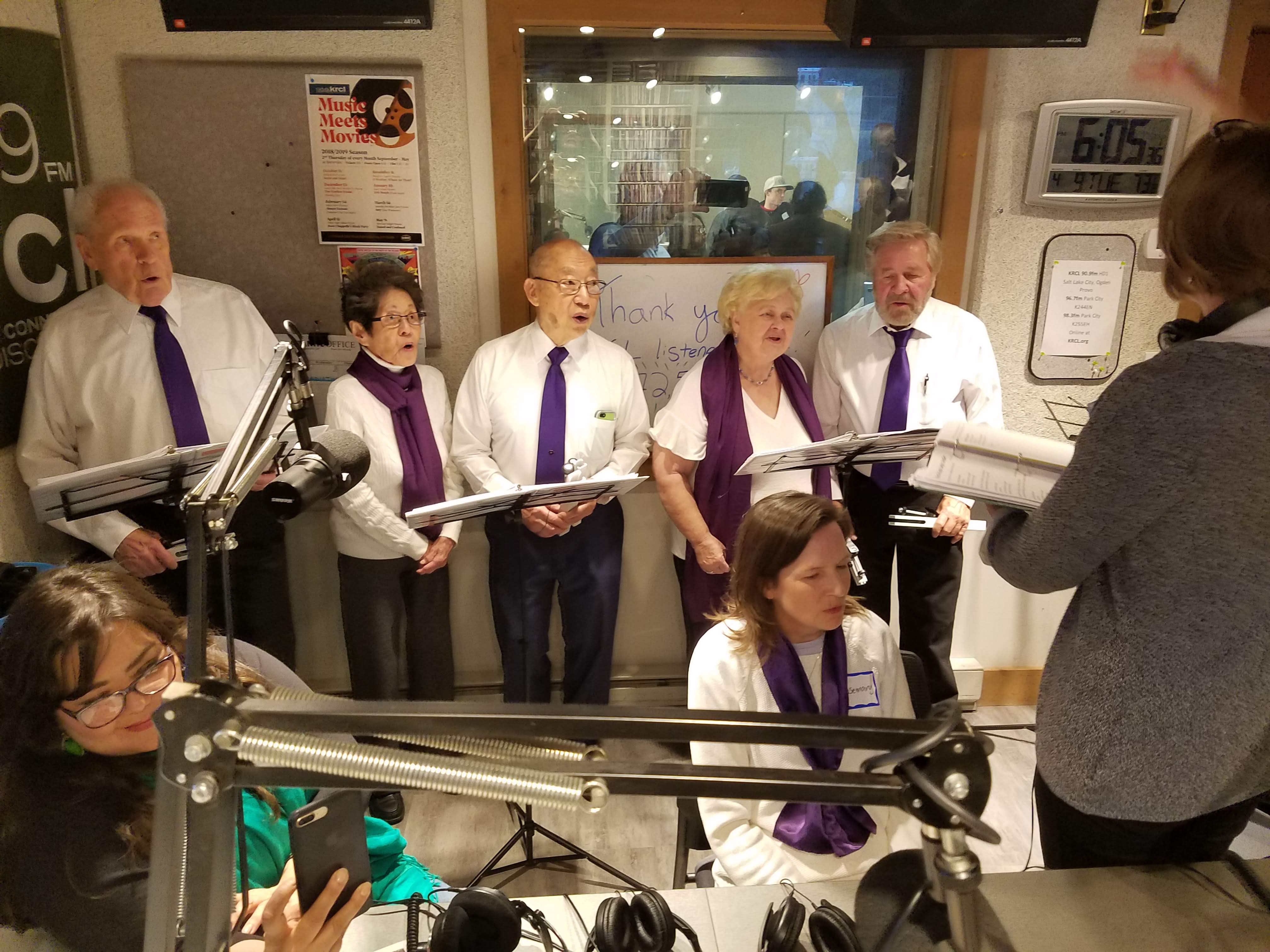 Gleeful Choir radio debut, Tlali Nantli, Grid Zine Fest, Bailamos, Poet Rob Carney, Spice Kitchen, SLC DuoFest, Wit's End
Tonight's lineup:
Gleeful Choir, a free choir for dementia clients and their caregivers sang a couple of songs in their radio debut. The Gleeful Choir is co-sponsored by Congregation Kol Ami, Jewish Family Service, and EngAGE Utah. Director is Emily Christensen, a board-certified music therapist.
Dementia care partners face the challenge of taking on new roles, that of caregiver and care-recipient. Choral singing offers an experience where these roles can be set aside, and couples find joy in singing and interacting; maintaining the quality and closeness in their relationship.
April 15: Gleeful Choir makes its public debut at 11 a.m. at the Millcreek Community Center, 2266 E. Evergreen Ave., Millcreek. Free and open to the public. The event will also feature Rosemary Quatrale, who is the Older Adult Care Manager for Jewish Family Service, a non-denominational social service agency with counseling services, a food pantry, community education classes, and programs for seniors.
Interested in joining the Gleeful Choir? Rehearsals are Tuesdays, 1:30-3:30 p.m., at Congregation Kol Ami, 2425 East Heritage Way, SLC. It's free and no musical experience is necessary. Reach out to founder Emily Christensen, a board-certified music therapist at Crescendo Music Therapy. She provides music therapy services to hospice agencies and care facilities throughout Utah.
Thom Carter of the Utah Clean Air Partnership - UCAIR talked about a chance to swap old, leaky gas cans for environmentally-safe cans. Bonus: swapping them out also improves air quality.
Old Gas Cans vs. New Gas Cans. Prior to 2009, portable fuel containers had volatile organic compound (VOC) emissions of 1.5 grams per gallon per day. As of 2009, the EPA requires standard limits of emissions from fuel containers to 0.38 grams of VOCs per gallon per day — a decrease of 75 percent. The new EPA-compliant gas cans emit 78 percent less benzene — a hazardous carcinogen — and reduce emission permeation of VOCs.
April 13: ShowUCAIR Gas Can Exchange, 8:00 a.m. at Boeing, 1215 N. 2200 W., SLC. The exchange is a free program and is first-come, first-served. All gas cans brought to the exchange must be completely empty. A limit of five gas cans per household will be eligible for the exchange. You must hand in a pre-EPA standard gas can to receive a new EPA-compliant gas can. Click here for more details.
Esperanza Elementary teachers Esmerelda Torres and Luisa Espinoza and Jorge Rodrigues of Artes de México en Utah talked about a cultural literacy night to celebrate the earth and indigenous cultures.
April 12: Tlali Nantli, 5:00-8:00 p.m. at Esperanza Elementary, 4956 W. 3500 S., WVC. Free and open to the public. Featuring the mariachi group Las Aguilitas de la Esperanza, the Esperanza Choir, Ballet Folklorico, Artes de Mexico en Utah on the history of corn and corn recipes, T'Zunun Group on the Mayan traditions of making artisan chocolate from cacao beans, Natural History Museum of Utah and Hermanas Lu'um with Mayan weaving techniques, Native American folktales with Dr. Debora Escalante from Utah Valley University, Latinos in Action with arts and crafts, and Tacos el Pariente.
Ella Mendoza of the Nopalera Artist Collective dropped to talk about Grid Zine Fest, which runs 11a-5p this Saturday at Gallivan Hall, 239 S. State St., SLC.
Free and open to the public, more than 60 makers of small-run, independently published, non-commercial books will share their work at the third-annual event. Attendees can create their own zines and check out workshops and panel discussions.
Salvador Oregon-Torres talked about Bailamos 2019, an "undocu party" for all who believe in a dance floor with no borders, 8:00 p.m. Friday, April 12, at LEÓN NEGRO Eventos, 9854 S. 700 E., Sandy. All proceeds will go toward scholarships for undocumented students in the community. Presented by Somos Dreamers University of Utah. For more events going on during the third annual UndocuWeek, click here.
National Poetry Month, with Utah poet Rob Carney. Carney is the author of five books and three chapbooks of poems, most recently The Book of Sharks. He is a Professor of English at Utah Valley University and lives in Salt Lake City.
Happy birthday to Spice-to-Go, featuring Chef Abudu of Kafe' Mamai Llc.-Catering company — which soon will be launching a food truck featuring the Afro-Caribbean cuisine of Abudu's home country, Kenya — and Kate Idzorek, Spice Kitchen Incubator program manager.
Spice Kitchen Incubator is a project of the International Rescue Committee (IRC), and was founded in partnership with Salt Lake County. It is a business incubator that brings together refugees and other disadvantaged community members interested in starting a full or part-time food business. Spice Kitchen Incubator ensures participants receive technical assistance and training, have affordable access to commercial kitchen space and learn the steps to establishing a successful food business.
Click here to sign up for the weekly Spice-to-Go email reminder. Every Thursday, they offer set-cost boxed-meals cooked fresh by a featured entrepreneur. This weekly email will tell you who it is and what's on the menu.
April 16: Journey to the Wasatch - 2019, 6:30-9:30 p.m. at The Falls Event Center (Salt Lake City), 580 S. 600 E., SLC. This annual fundraising party celebrating refugees in our community who survive conflict and disaster to call Utah their home. Ticket sales close tomorrow, so click here to reserve your tickets today!
SLC DuoFest, April 12-13 at Sugar Space Arts Warehouse, is the only current improv comedy festival dedicated to celebrating improv teams of two. The DuoFest will host acts from across the country and present workshops available to festival performers and local improvisers. RadioACTive got a preview with Danielle Susi, Calvin Dittmore, Jesse Parent and Joseph Kyle Rogan. Click here for tickets and more information on the nightly lineup and workshops.
Lara shared a clip from her interview with James Geary, author of WIT'S END: What Wit Is, How It Works, and Why We Need It. In the book, Geary explores every facet of wittiness, with each chapter written in a style that exemplifies a different kind of wit, wisdom and sometimes even, serendipity. Use the media player below for the full interview:
Got a story you'd like to share on the show? Record a voice memo on your smart phone, then email it to radioactive@krcl.org. Keep it under 3 minutes and be sure to include a name and phone number in the message.
RadioACTive is a production of Listeners' Community Radio of Utah. Tonight's team included:
Exec. Producer/Host: Lara Jones
Assoc. Producer: Billy Palmer
Community Co-Host: Ma Black
Volunteer: Saida Dahir
###