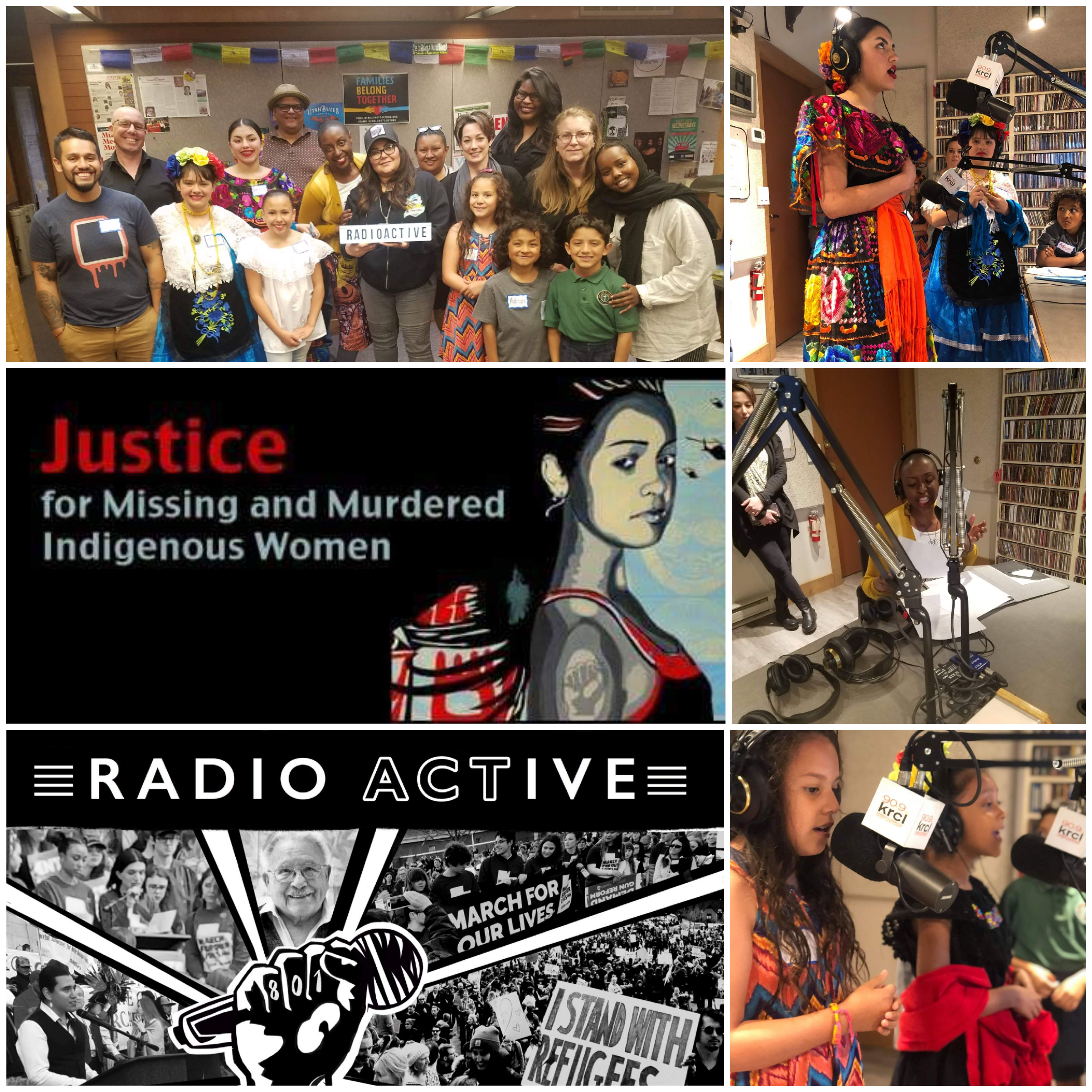 WestSide Dance singers, MMIWR Awareness Day, Amos Guiora on anti-Semitism, poet Franque Bains, support your local writers
Tonight's lineup:
Billy Palmer with Rallies & Resources. To see a list of upcoming rallies and grassroots resources curated by KRCL's RadioACTive team, click here.
WestSide Dance stopped by with dancers and singers. Join them for Cinco de Mayo Sunday from 12:00-6:00 p.m. at Sugar Space Arts Warehouse. Special thanks to singers Kimberly Jaramillo and Mia Bernuy.
Jennifer Boyce, chair of PANDOS' MMIWR committee, and committee member Liz DeBetta on a new day of recognition and awareness for Missing and Murdered Indigenous Women, Girls, LGBTQ+ and 2Spirit.
May 2: Predator on the Reservation, film screening and panel honoring missing and murdered indigenous relatives, 7:00 p.m. at The Urban Indian Center of Salt Lake, 120 W. 1300 S. Free and open to the public, FRONTLINE and The Wall Street Journal investigate the decades-long failure to stop a government doctor accused of sexually abusing Native American boys for years and examine how he moved from reservation to reservation despite warnings.

May 5: Healing the Heart: Candlelight Vigil in Honor of Missing and Murdered Indigenous Relatives, 7:00 p.m. at Salt Lake City Public Safety Building, 475 S. 300 E., SLC. The Utah Legislature passed HCR 6 "Designating May 5th as Murdered and Missing Indigenous Women, Girls, and LGBT+ Awareness Day." Restoring Ancestral Winds has partnered with other Native American organizations, including PANDOS, and Native community leaders to plan a series of events to both honor and raise awareness around the crisis of MMIWG2 in Utah. Please wear red on May 5 in recognition. This event will be open the general public. This event co-sponsored by Restoring Ancestral Winds, Inc. and PANDOS MMIR Committee.
Prof. Amos Guiora, author of "The Crime of Complicity: The Bystander in the Holocaust," is back from celebrating Passover in Israel with his family. He shared his thoughts on yet another attack on a synagogue. For a longer conversation, including his take on politics in Israel, use the media player below.
Released earlier today, the Anti-Defamation League's annual Audit of Anti-Semitic Incidents recorded a total of 1,879 attacks against Jews and Jewish institutions across the country in 2018, the third-highest year on record since ADL started tracking such data in the 1970s.

Guiora is working on a second edition of "The Crime of Complicity," and he is also wrapping up work on his next, "The Rise of the Right: The End of Liberalism?," set for publication later this year.
It's National Poetry Month. Tonight's featured poet: Franque Bains. Bonus poem: Use the media player below to hear Franque read another of her poems.
Support your local writers, a panel discussion featuring:
Kirsten Allen, Torrey House Press, an independent, nonprofit publisher run and staffed by five women dedicated to publishing cutting-edge literature in support of our natural world.

Zak Podmore, author of "Confluence: Navigating the Personal and the Political on Rivers of the New West" (Oct. 2019/THP)

Ayja Bounous, author of "Shaped by Snow: Defending the Future of Winter" (Nov. 2019/THP)

Matthew D. LaPlante, who will read from and sign his latest book, "Superlative: The Biology of Extremes," at 7:00 p.m. this Friday at The King's English Bookshop, 1511 S. 1500 E., SLC.
As with other nonprofit presses, book revenue covers only 50% of Torrey House Press' expenses. Donors make books like Ayja's and Zak's possible. Click here for a short video on the project and how you can support their Kickstarter campaign.
Got a story you'd like to share on the show? Record a voice memo on your smart phone, then email it to radioactive@krcl.org. Keep it under 3 minutes and be sure to include a name and phone number in the message.
RadioACTive is a production of Listeners' Community Radio of Utah. Tonight's team included:
Exec. Producer/Host: Lara Jones
Assoc. Producer: Billy Palmer
Community Co-Host: Ma Black
Volunteer: Saida Dahir
###