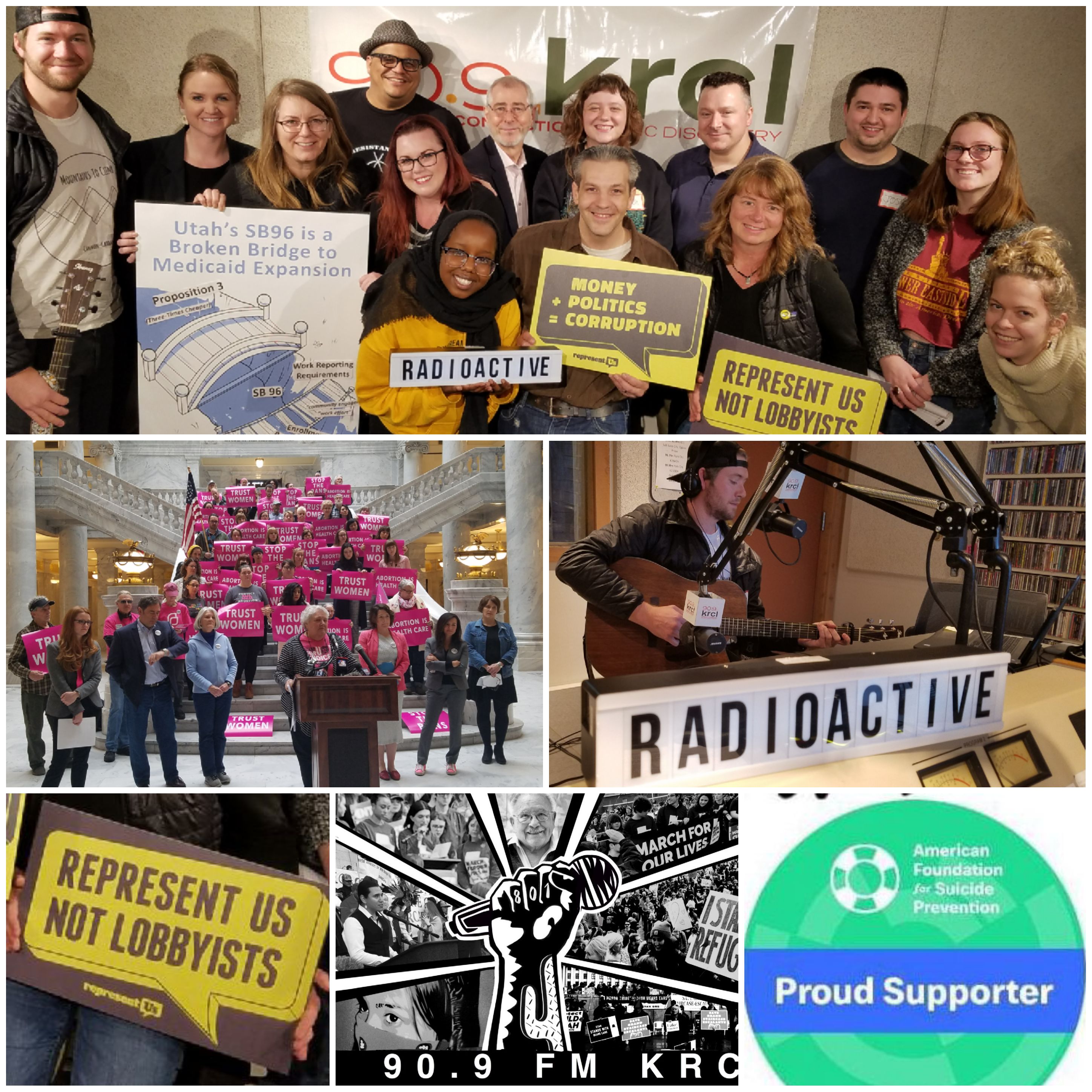 Lawsuit to stop abortion ban, Unbreaking America, Coyote Tales, AutCon19, Utah's 'Broken Bridge' to Medicaid Expansion, plus live poetry and music
Tonight's lineup:
Karrie Galloway, president of Planned Parenthood Association of Utah (PPAU), commented on the lawsuit filed today by PPAU and ACLU Utah to stop HB136, the new Utah law that bans abortion with few exceptions after 18 weeks.
Passed during the 2019 General Session of the Utah Legislature and signed into law by Governor Herbert, HB136 is one of more than 260 abortion restrictions moving through states nationwide, half of which are bans on abortion like Utah's 18-week ban.
Click here to see Rep. Brady Brammer (R-Pleasant Grove) compare the 18 weeks in which a woman now must make a decision about abortion to the National Football League's 17-week season. His remarks begin at the 1:42:00 mark, with the NFL analogy at 1:47:08. Source: House floor debate recording from February 25, 2019.
National Poetry Month with Saida Dahir, who read Don't Cry, a poem she wrote for the Women's March that took place in Salt Lake City earlier this year. Dahir is also working on releasing an album of her poetry before heading off to UC Berkeley later this year.
Julie Beane and Eric Hoganson of RepresentUs - Utah, the newly formed chapter of the nation's largest grassroots anti-corruption campaign, bringing together conservatives and progressives to pass anti-corruption laws across the country.
Coyote Tales with Victoria Topham, the former chef/owner of Piñon Café in SLC. She retired to Ivins, Utah, a few years ago and started Petite Feast. To get the private chef business off the ground, she hosted a dinner club at which guests were invited to share a story based on the food theme of the evening. Topham was inspired by her love of "The Moth Radio Hour" and other storytelling radio programs. Her dinner club has grown into Coyote Tales, a live, open-mic storytelling series with amateur and experienced storytellers. Click here to listen to storyteller Jesse Erlich's "THE SWEET SMELL OF MARLBOROS," a clip of which she shared on tonight's show.
Live, homegrown music from Jake Graham, a singer/songwriter out of Utah County. For his 30th birthday, he decided to write and record Mountains to Climb, a 6-song E.P. exploring the different phases of depression. He hopes to raise $30,000 in support of the American Foundation for Suicide Prevention-Utah. To donate and learn more, click here.
Provo-based ScenicView Academy for Young Adults with Autism is preparing for its annual convention designed for adults on the autism spectrum. Employees Jared Stewart, Sarah Heuser and Josh Olivas, all of whom are on the autism spectrum, shared their own stories of transitioning to adulthood. This is the first in a series of AutCon conversations on Wednesday evenings.
Stacy Stanford and Courtney Bullard of the Utah Health Policy Project, which earlier this month called out Utah lawmakers for their "broken bridge" to Medicaid expansion.
In its 2019 session, the legislature passed SB96, effectively gutting the voter-approved Proposition 3 Medicaid expansion. However, the new law required a series of waivers from the federal government. The first waiver — the "bridge plan" — has been approved.
Got a story you'd like to share on the show? Record a voice memo on your smart phone, then email it to radioactive@krcl.org. Keep it under 3 minutes and be sure to include a name and phone number in the message.
RadioACTive is a production of Listeners' Community Radio of Utah. Tonight's team included:
Exec. Producer/Host: Lara Jones
Assoc. Producer: Billy Palmer
Community Co-Host: Nick Burns
Volunteer: Natalie Benoy
Intern: Isabella Sabala
###