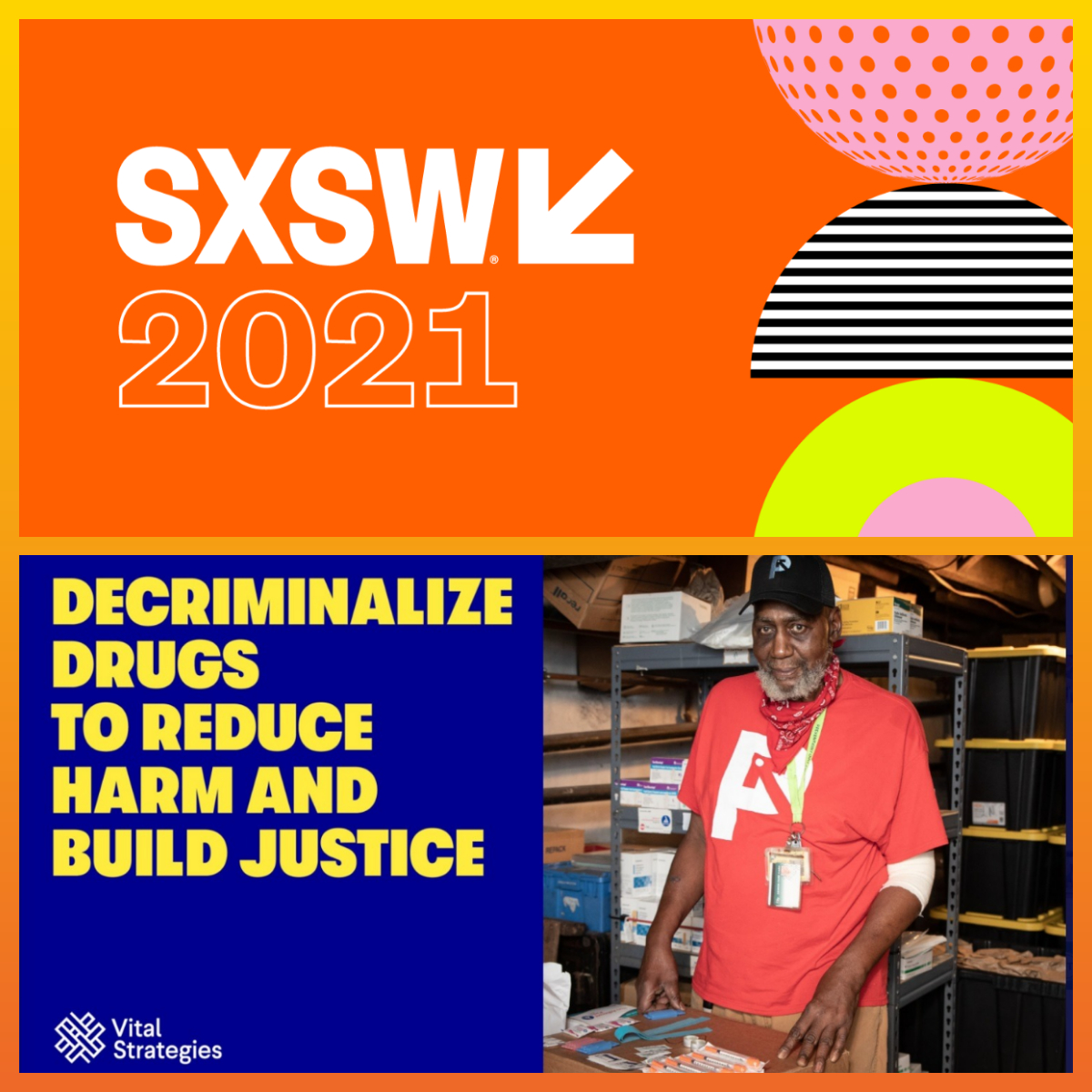 One of the great things about SXSW is all the panel conversations happening during the conference and music, film and comedy festivals. I dropped in on one featuring a reverend, a criminal justice professional, a public health expert and a harm reduction advocate talking about "a future that decriminalizes drugs, centers racial justice, and shapes a harm reduction landscape."
Led by Daliah Heller, Director of Drug Use Initiatives for NYC-based Vital Strategies, the panel reflected on the 50th anniversary of Nixon's War on Drugs. A little context from the panel:
"Voters in Oregon made history with the decision to decriminalize drugs and invest in a public health response. This landmark comes amidst the worsening US epidemic of overdose, claiming more than 80,000 lives last year. Overdose is preventable, but stigma, moralism, and criminalization have made it a deadly risk. Moreover, criminalization has been used as a weapon against Black and brown communities, interrupting futures with disproportionately high rates of incarceration and child removal, despite similar rates of drug use across racial-ethnic lines."
Panelists and key quotes:
Rev. Dr. Charles Boyer, founding director of Salvation and Social Justice, a non-partisan Black faith-rooted organization. Boyer said the Drug War is an extension of the subjugation and commodification of Black bodies. "This marks the 50th year of the Drug War, and if you're are convicted of a crime, you are then technically a slave. So as an AME preacher, African Methodist Episcopal preacher, in a faith that's founded in abolition, the Drug War must be abolished." Rev. Boyer emphasized the need to elevate and recognize the humanity of people struggling with addiction, and how critical it is to offer them compassion, health and healing instead of incarceration. He reflected on the history of religion in slavery, then posed a question for today's religious and faithful: "Religion and denominations were involved in slavery, and faith was involved in freedom. And so, as people who identify as faith leaders and people of faith, we have to decide which we identify with [today]."

Kurt August, assistant director of Diversion and Deflection, City of Philadelphia, where he supports efforts to connect drug users to community-based services and treatment. Pivoting from the pulpit to the public square, August said criminal sanctions serve as "amplifiers to inequality when it comes to employment, housing and even the underlying issues of family and social cohesion that we know are foundational to have appropriate supports to address people's health needs."

Teresa Springer, director of programs for Flint, MI-based Wellness Services, where she has a long history of working in harm reduction and prevention. She addressed the selective enforcement of drug laws and the devastating effects on communities of color. "With decriminalizing drugs," said Theresa Spring, director of programs at Wellness Services of Flint, MI, "you get at a deeper level and you allow communities to heal from things that have caused harm through the years. And when I say heal, I mean Black, Brown and Indigenous bodies being locked up and forgotten, and those mental health issues that arise from those things. Like being able to move dollars from systems of harm to systems of care and compassion. And instead of locking people up for things that they have no control over, we look at people's lives with compassion and get them the things that they need. And that goes for people who use drugs and people who deal drugs as well. I feel like they're removed from that conversation a lot and need to be put back into that conversation because mass incarceration goes both ways."
In closing, Heller asked each panelist to offer a way for the public to help decriminalization and justice efforts after 50 years of the War on Drugs:
Rev. Dr. Charles Boyer: "It's really crucial that we build movements that are led by the folks who have been most impacted by the Drug Way. Folks who have the visceral, existential experience of feeling the depth of the harm are the ones who are best equipped to define what the healing should like."

Kurt August: "Everyone in this audience has a role to play in the participatory budgeting approach when it comes to how resources are allocated in your local communities," he said. "Budgets really do reflect our priorities as a community and that's something that everyone can get involved in."

Teresa Springer: "One point that I want to make is the power in our voices and the power that we have to enact change," she said, "and the more of us that learn about harm reduction approaches, that learn about compassion, that learn that these tools of dignity and love can really get at things. And then we use that voice to create change. The more of us that want decriminalization, we'll get it."
Click here to learn more about harm reduction.
###