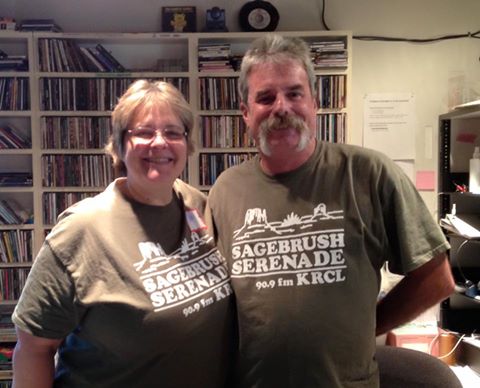 Whith more than 35 DJ's at KRCL, we thought it would be great to let our listeners know more about the dedicated men and women who take time to bring you the best in music. Meet Your DJ sat down with Phil Lanouette co-host with Lori Rosendahl of Sunday Sagebrush Serenade heard every Sunday from 10am to 1pm.
What can people expect when they tune into Sunday Sagebrush Serenade?
A mix of music tailored to your Sunday morning cup of coffee wake up music to your afternoon bluegrass tastes. You'll hear folk, acoustic, bluegrass, acoustic rock, country, rock and Americana from 10am to 1pm.

How long have you been a DJ for KRCL? Do you remember how your first show went?
I started doing Sunday Sage in January of 1989 (alternating weeks with former Breakfast Jam host Rick Staynor for many years), then Jodi Stewart-Browning (for several years), then Lori Rosendahl (for a several years), then Kate and Molly (for about a year), then Linda East Brady for about 6 years and now back with Lori Rosendahl since Linda moved out of town. (That's about 28 years!)

Do you have a special feature on your show?
I alternate Sundays with Lori Rosendahl (and have been for several years now) and we each do a unique version of Sunday Sage, playing different songs from many of the same artists. I do what's called the Alphabet Stew, where I feature one letter of the alphabet for that day - artists, songs, albums and themes which begin with that letter - it's very loose and freeform - kinda like a camping or hobo stew. It takes about a year to go through the alphabet and that gets me rotating through my music library, hopefully keeping it fresh. The name "Alphabet Stew" was first coined by a former blind KRCL DJ (and this was in the original days of vinyl!) by the name of Linda Reeder and later by the late, great Jo Wilson (RIP), who DJ'd a breakfast Jam and later was the first Saturday Breakfast Jam

What other shows have you hosted for KRCL?
Sunday Sage is the third program I've hosted. I've been a DJ on KRCL since January of 1987. Right after I completed training, I did a late Wednesday night/early Thursday morning program (Thursday 3:30 am to 6:00am) called Roundabout for about 18 months. The DJ preceding me at the time (in the 1:30-3:00am slot) was Erin Fraser (remember Todd and Erin of various SLC morning shows since the 90's?) On my first show, I asked her if she locked the front door - of course, her was "yes." I replied with something along the lines of, "I can understand that coming from a female..." She quickly countered with, "Yeah, Phil, but the women prowling around at that time of night have FANGS!" Point taken, thanks, Erin. In mid 1988, I moved to a late weeknight show (11:30pm to 1:30am) called Phil's Thrills for about a year and have been on Sundays ever since January of 1989.
If your music collection fell into a black hole, what three albums would you immediately replace?
Only three? That's very difficult, at best. "Four Decades of Folk Rock" is one that comes to mind (especially since it is a 4-cd set), Neil Young's "Live at Massey Hall" perhaps, Dire Straits "Brothers in Arms", any of Robert Earl Keen's live albums, James McMurtry's "Just Us Kids," the soundtrack to the movie "127 Hours," Kate Wolf's "Gold in California," one of the early Talking Heads releases... Let's see, was it three or ten albums?

If a time machine were invented and you had access to one, what concert in the past would you go to?
The Doors at Lagoon. Or maybe Woodstock. Or maybe the Grateful Dead at Park West in 1984 (Oh, wait - I was there - I just don't remember very much...)

Do you remember the first concert you ever went to?
Led Zeppelin - Inglewood Forum - 1976. My buddy, his sister and I arrived hours early (in my 1968 Firebird) to hang out in the parking lot. It was the first time I was offered "milk" (code for LSD in that time and place). I answered "huh?" My buddy declined for me since I didn't know what the dealer was asking me! It was a great concert.

Anything else you want KRCL listeners to know?
I truly enjoy volunteering for KRCL, learning from the listeners and other KRCL programmers about music and new artists. I enjoy sharing music with the listeners. I'm asked if I'm "working" on Sunday - the answer is always "no" - If I'm doing Sunday Sage, I'm playing - It's not work. If it's Lori's turn for Sunday Sage, then I'm still playing - just not music. I don't play an instrument - just "OP" as Jo Wilson used to say - "Other People's" music.