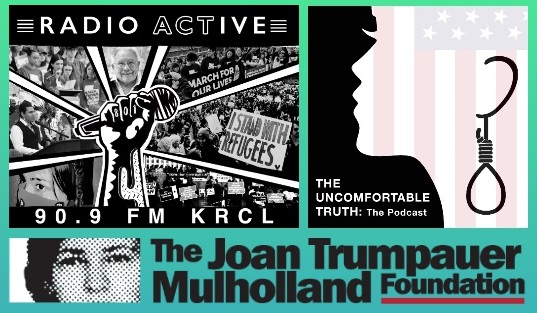 Freedom Riders, Civil Rights Movement Activists to Share Their Stories During MLK Week Broadcasts on Listeners' Community Radio of Utah

Partnership with The Uncomfortable Truth, YouthCity shines a light on history, current events
(SALT LAKE CITY, UT)—In collaboration with The Uncomfortable Truth Podcast and YouthCity, KRCL will present a special week of broadcasts featuring original Freedom Riders and Civil Rights Movement activists in celebration of Martin Luther King Jr. Day.
"Forty-one years ago, KRCL was founded by civil rights activists and anti-war protesters," said General Manager Tristin Tabish. "With these broadcasts and our ongoing partnership with The Uncomfortable Truth, we continue to honor that legacy and the struggle for equality for everyone."
The Uncomfortable TruthPodcast (TUT) has gathered interviews with more than a dozen Civil Rights Movement activists, including original Freedom Riders. During RadioACTive weeknights at 6:00 p.m. Jan. 18-22, KRCL will air TCT conversations with:
Monday, January 18: Happy Martin Luther King Jr. Day! In the first of five nights honoring Dr. King's legacy of nonviolence, RadioACTive presents a YouthCity special report and a conversation about human rights with SLC Mayor Erin Mendenhall.
Tuesday, January 19: The Uncomfortable Truth's Civil Rights Movement Series, featuring Joan Trumpauer Mulholland. Her Freedom Rider mugshot has been called one of the most iconic in American history. By the time she was 23 years old, Joan Trumpauer Mulholland participated in over 50 sit-ins and demonstrations including the Freedom Rides, the Jackson Woolworth's Sit-in, the March on Washington, the Meredith March and the Selma to Montgomery March. Her path has crossed with some of the biggest names in the Civil Rights Movement: Martin Luther King, Medgar Evers, Fannie Lou Hamer, John Lewis, Diane Nash and Julian Bond to name a few.
Wednesday, January 20: The Uncomfortable Truth's Civil Rights Movement Series, featuring Charles Person. He wanted to be a Freedom Rider but there was only one problem. He was too young and would need his mother's permission.
Thursday, January 21: The Uncomfortable Truth's Civil Rights Movement Series, featuring Ruby Bridges. She thought she was going to college. She thought the raging crowds was part of Mardi Gras. She had no idea how her life would be a force for change and good in the world.
Friday, January 22: The Uncomfortable Truth's Civil Rights Movement Series, featuring Joanne Blackmon Bland and Charles Dennis. Only 11 years old on Bloody Sunday, JoAnne faced the charging horses and the swinging batons of the state troopers. Freedom Rider, Dave Dennis, never thought about getting involved in the Civil Rights Movement but he did want a date with a pretty young lady.
"I grew up watching my mom and her friends fight for civil rights, so I thought everyone knew and understood why the Freedom Riders did what they did, and the price they paid," said podcaster and award-winning filmmaker Loki Mulholland. "What I found was a lack of accurate and thoughtful material from the folks who lived it, so I started The Joan Trumpauer Mulholland Foundation to not only preserve my mother's story but create books and videos anyone can use to educate themselves or their students about racism."
Mulholland said TUT's Civil Rights Movement series is available free to other media outlets through Public Radio Exchange, a non-profit media company specializing in audio journalism and storytelling.
In celebration of Dr. King Day on Monday, RadioACTive also will present a special report from YouthCity Government — a Capital City program that "provides the education, the problem-solving experience, and the social arena for Utah's future leaders to develop and strengthen their skills and confidence to better serve their communities" — and a human rights conversation with Salt Lake City Mayor Erin Mendenhall.
###