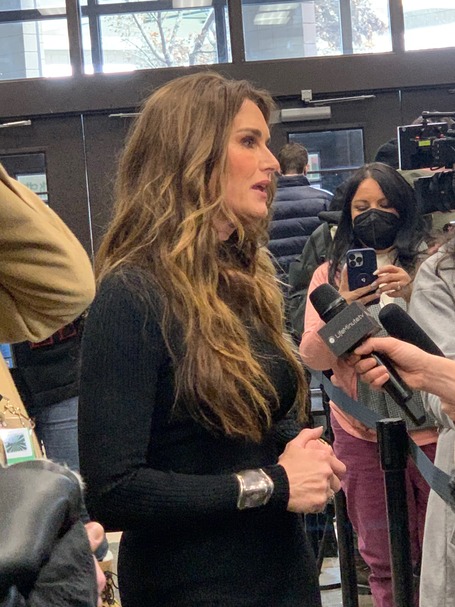 Brooke Shields made a red carpet appearance at the Eccles Theater in Park City on January 20 ahead of the Sundance premiere of "Pretty Baby: Brooke Shields."
Shields shared in interviews ahead of the film's premiere that she had been approached several times to make a documentary about her, but it was Lana Wilson's vision that Shields felt good about. Wilson, who was at the helm of the 2020 Taylor Swift documentary, "Miss Americana," said on the red carpet that after going through the vast amount of footage Shields shared with her, that she wanted to take on the challenge of portraying the complicated facets of Shields's life and how her experiences are, in some ways, relatable to impossible situations young women continue to face today.
"I started looking at files, and I saw Brooke at age 12, on talk shows, being grilled by these talk show hosts saying, 'you're so beautiful, you're so sexy, you're so mature.' And also saying at the same time, 'this is child pornorgraphy, you've gone too far,'" Wilson said. "I could see this little 12-year-old girl caught in this impossible double bind, and I thought, 'I think people still experience that now. I don't think we've changed in these impossible expectations that we put on young girls and teenage girls.' Seeing that material made me think this is really resonate today."
In 1978, Brooke Shields was 12 years old when she portrayed a child prostitue in the film "Pretty Baby." In that role, she filmed nude scenes. Shields's mother also permitted Playboy to take nude photographs of Shields when she was only 10. As a result, Shields was exploited as a sex symbol at a very young age — and continuously faced the scrutiny and backlash of her mother's decisions while trying to navigate coming of age in the spotlight.
Shields said that she hopes her documentary is an example to others — especially women — of how we can overcome the traumas we experience. And that, while on the surface the painful experiences we go through might look different, facing challenges and finding ways to recover from them is a commonality we all share.
"I really hope that people, women in particular, see this film and find similarities with their own lives. I think people come away from this realizing that all of our stories are really quite similar. They just look different from the outside," Shields said. "I hope people come away with the belief that they can persevere and that longevity really has to do with showing up and really working hard."
The two-part documentary has been picked up by Hulu, but no release date has been announced. "Pretty Baby: Brooke Shields" will be screened throughout the Sundance Film Festival in Park City and Salt Lake, with the final screening taking place at the Rose Wagner Performing Arts Center in Salt Lake City on January 28.