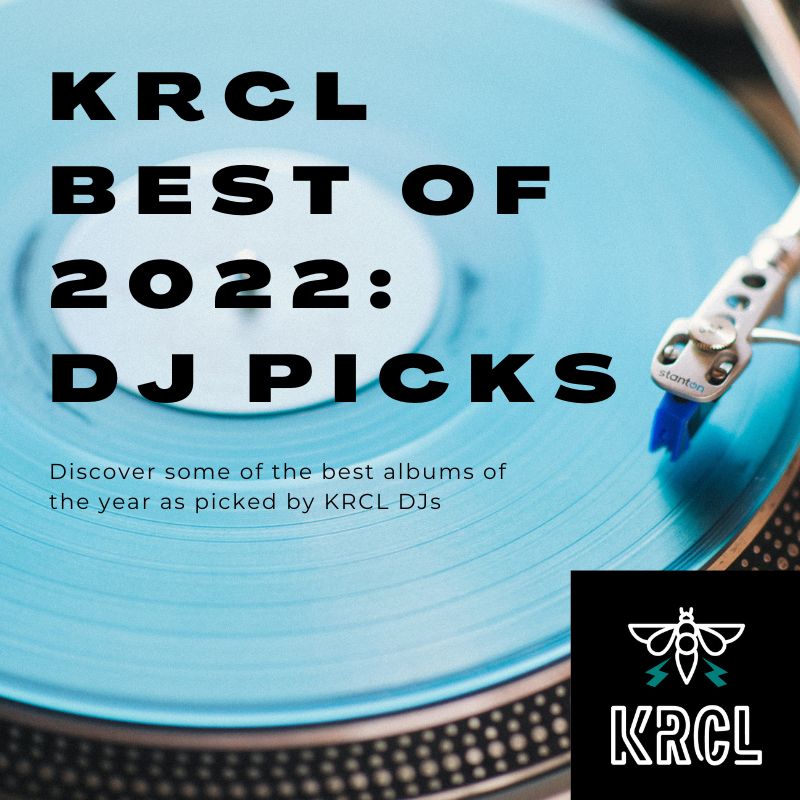 This year delivered great music. Check out favorite albums from some of KRCL DJs.
Ebay host of the Afternoon Show Top 22 of 2022:
Adrian Quesada / Boleros Psicodelicos & Jaguar Sound
Andrew Bird / Inside Problems
Angel Olsen / Big Time
Big Thief / Dragon New Warm Mountain I Believe In You
Bjork / Fossora
The Black Keys / Dropout Boogie
Bonny Light Horseman / Rolling Golden Holy
Built to Spill / When the Wind Forgets Your Name
Danger Mouse & Black Thought / Cheat Codes
Daniel Rossen / You Belong There
Dawes / Misadventures of Doomscroller
Domi & JD Beck / Not Tight
First Aid Kit / Palomino
Hurray For The Riff Raff / Life On Earth
Kendrick Lamar / Mr. Morale & The Big Steppers
Rosalia / Motomami
Rubblebucket / Earth Worship
Sharon Van Etten / We've Been Going About this all Wrong
The Smile / A Light for Attracting Attention
Spoon / Lucifer on the Sofa
Wet Leg / Wet Leg
Wilco / Cruel Country
Ebay's Best Soul Albums of 2022:
Amber Mark / Three Dimensions Deep
Danielle Ponder / Some of Us are Brave
Lady Wray / Piece of Me
Mavis Staples & Levon Helm / Carry Me Home
Robert Glasper / Black Radio III
Samm Henshaw / Untidy Soul
Sault / 11
Say She She / Prism
Son Little / Like Neptune
Steve Lacy / Gemini Rights
Thee Sacred Souls / ST
Trombone Shorty / Lifted
Various Artists / Summer of Soul (...Or, When the Revolution Could Not Be Televised)
Yebba / Live at Electric Lady
Courtney Blair, host of Afternoon Delight: 25 Favorite 2022 albums:
Alvvays - Blue Rev
Angel Olsen - Big Time
Beach House - Once, Twice, Melody
The Beths - Expert in a Dying Field
DEHD - Blue Skies
Fontaines D.C. - Skinty Fia
Gwenno - Tresor
Hater - Sincere
Horsegirl - Versions of Modern Performance
Ibibio Sound Machine - Electricity
Kikagaku Moyo - Kumoyo Island
Melody's Echo Chamber - Emotional Eternal
Monophonics - Sage Motel
The Orielles -Tableau
Panda Bear / Sonic Boom - Reset
Pillow Queens - Leave the Light On
Porridge Radio - Waterslide, Diving Board, Ladder to the Sky
PVA - Blush
Say Sue Me - The Last Thing Left
Soccer Mommy - Sometimes, Forever
Spoon - Lucifer On the Sofa
Sudan Archives - Natrual Brown Prom Queen
Wet Leg - S/T
Weyes Blood - And In the Darkness, Hearts Aglow
Yeah Yeah Yeah's - Cool It Down
Talia Keys host of We're Here With Talia Keys
Beyoncé - Renaissance
Lizzo - Special
Danielle Ponder - Some of Us Are Brave
Gabriels - Angels and Queens
Kendrick Lamar - Mr. Morale & The Big Steppers
Adrian Quesada - Boleros Psicodelicos
Bonnie Raitt - Just Like That…
Swatkins - Friends and Other Necessities
Various Artists - Elvis (Motion Picture Soundtrack)
Lettuce - Unify
Lucius - Second Nature
Megan Thee Stallion - Traumazine
Brian Kelm host of Red, White & Blues 2022 - Top Blues Albums (in chronological order by date) Disclaimer - it should be noted that these are simply 20 of my favorite CD's that came into KRCL and/or I otherwise came across. There are simply too many good blues CD's out there for me to buy them all up!
Trudy Lynn – Golden Girl (NOLA Blue 1-7-22)
Tinsley Ellis – Devil May Care (Alligator 1-21-22)
Peter Veteska & Blues Train – So Far So Good (Blue Heart Records 1-21-22)
John Mayall – The Sun Is Shining Down (Forty Below Records 1-28-22)
Duke Robillard – They Called It Rhythm & Blues (Stony Plain 3-18-22)
Larry McCray – Blues Without You (KTBA Records 3-25-22)
Vaneese Thomas – Fight The Good Fight (Blue Heart 4-15-22)
Miss Bix – Bring It (Blue Heart 4-15-22)
Taj Mahal & Ry Cooder - Get On Board (Nonesuch 4-22-22, I always include an acoustic CD!)
Diunna Greenleaf – I Ain't Playin' (Little Village 5-20-22)
Kenny Neal – Straight From the Heart (Ruf 5-20-22)
Phantom Blues Band - Blues For Breakfast (Little Village 6-2-22)
The Strongman Blues Remedy Volume 1 (Stony Plain 6-17-22)
The Dig 3 - Self Titled (Self Released 8-20-22)
John Nemeth - May Be The Last Time (Nola Blue 9-16-22)
Buddy Guy – The Blues Don't Lie (RCA 9-30-22)
Dave Keyes – Rhythm Blues & Boogie (Blue Heart 10-21-22)
Yates McKendree – Buchanan Lane (Qualified Records 10-28-22)
Martin Lang & Rusty Zinn - Mr. Blues, Mr. Blues (Random Chance 10-28-22)
Will Jacobs – Goldfish Blues (Ruf 10-28-22)
Michelle Tanner host of Night Train Top Ten 2022:
Amanda Shires - Take It Like A Man
Molly Tuttle & Golden Highway - Crooked Tree
Paul Cauthen - Country Coming Down
Danielle Ponder - Some of Us Are Brave
John Fullbright - The Liar
Seth Avett - Seth Avett Sings Greg Brown
First Aid Kit - Palamino
Jess Williamson, PLAINS, and Waxahatchee - I Walked With You A Ways
Billy Strings - Me / And / Dad
Watkins Family Hour - Volume II
Gavin Dahl KRCL's Executive Director's 22 Best Albums of 2022
Adrian Quesada / Boleros Psicodelicos
Bibio / BIB10
Calimossa / Grotto's
CARRTOONS / Homegrown
Danger Mouse & Black Thought / Cheat Codes
Death By Dub / Abundance
Dirtwire / Embers
Eric Dahl / Three Pawn Shops
Flume / Palaces
The Frightnrs / Always
Ghost Funk Orchestra / A New Kind of Love
Kae Tempest / The Line is a Curve
Kokoroko / Could We Be More
Lettuce / Unify
Makaya McCraven / In These Times
Michal Menert / Slow Burn
Obongjayar / Some Nights I Dream of Doors
Odesza / The Last Goodbye
Say She She / Prism
Stella / Up and Away
Tipper / Marble Hunting
Toro Y Moi / MAHAL
Gavin's Top 5 Utah Releases of 2022:
Talia Keys - "Ain't Got Time for This"
The Backseat Lovers - "Waiting to Spill"
The Hermit - "Float"
Ryan Innes - "Can't Help Myself - Single"
Daytime Lover - "I Was Asleep"
Eugenie host of The Midday Show Favorite Women Who Rock Albums of 2022
Amanda Shires - Take It Like A Man
Amber Mark - Three Dimensions Deep

Aoife O'Donovan - Age of Apathy 

Camp Cope - Running with the Hurricane

Danielle Ponder - Some of Us are Brave

Ibibio Sound Machine - Electricity

Jennifer Hartswick - Something in the Water

Lady Wray - Piece of Me

Lucius - Second Nature

Say She She - Prism
Sharon Van Etten - We've Been Going About This All Wrong

Sudan Archives - Natural Brown Prom Queen

Tank and the Bangas - Red Balloon

Wet Leg - Wet Leg
Yeah Yeah Yeahs - Cool It Down
Eric P. Nelson's top 10 albums of 2022, in no particular order
Butcher Brown - Butcher Brown Presents Triple Trey
Destroyer - Labyrinthitis
Cheekface - Too Much To Ask
Sault - 11
Don't Stop Or We'll Die - Bellezas
Robert Glasper - Black Radio III
Phife Dawg - Forever
Jon Daly - Ding Dong Delicious
Lee Fields - Sentimental Fool
"Weird" Al Yankovic - Scarif Beach Party (single)