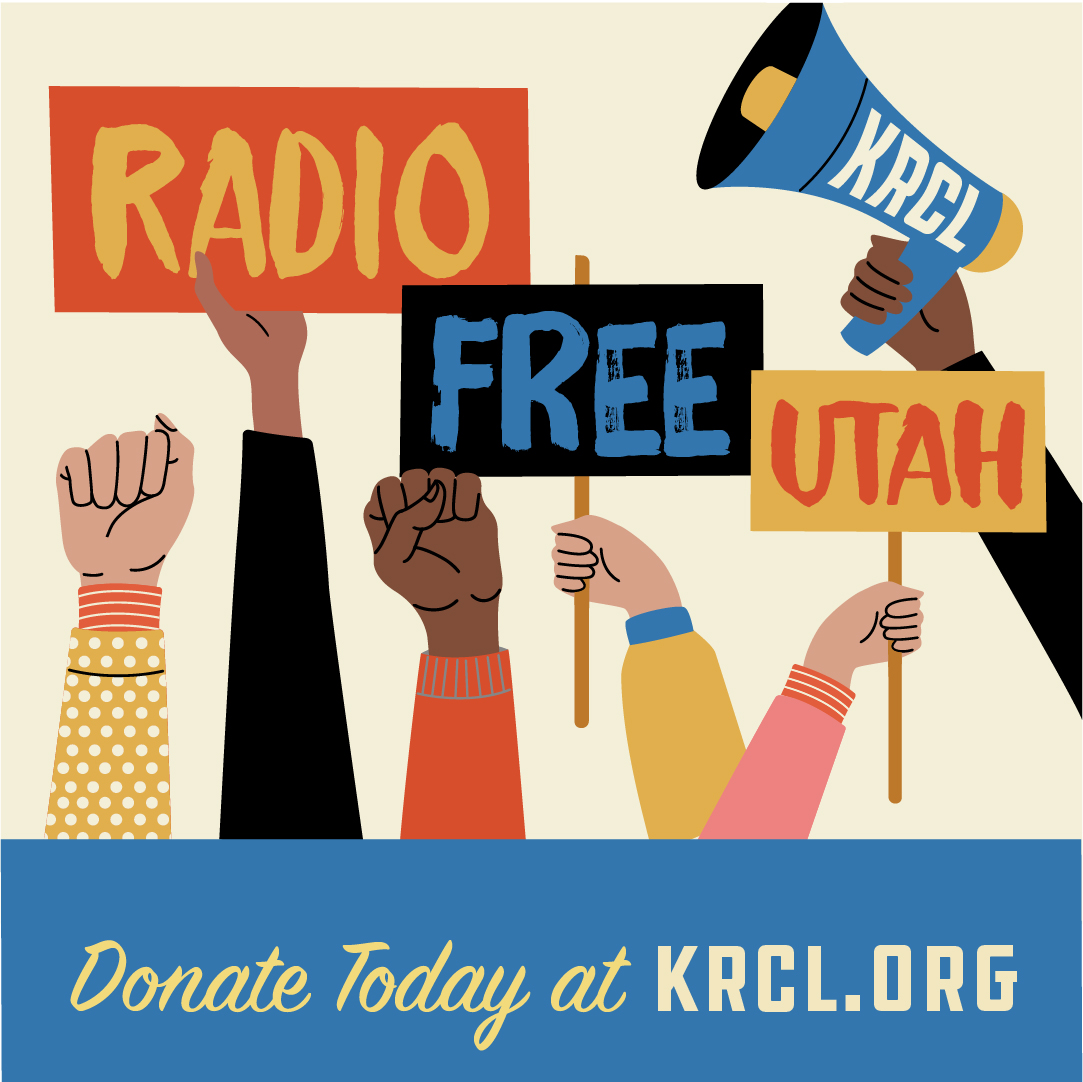 Thank you to everyone who pitched in and helped power KRCL during the Summer Radiothon! Together we raised $140,000! That's just $10,000 shy of our overall goal. We are so grateful to all of our sustainers and donors for getting us to this impressive total. We know how much you all care about community radio, and we are also keenly aware that not everyone can contribute during these troubling times. So, a big heartfelt thank you to everyone who is able to power KRCL for ALL of us!
Here are some of the comments we received at www.krcl.org during this Summer Radiothon.
Marz Catrow - I've been listening to KRCL for 20 over years and LOVE it. Ebays show always cheers me up as do all the shows. This station is SO important for our community. Thank you!
Shalise Bailey Marx - If I time my ride to work right I get to hear the protest song of the day as I pull into the school parking lot. As a school teacher I appreciate being inspired by the protest songs to get myself and my students thinking about what is really important in today's world. THANK YOU!!
Kevin Lundmark - Maximum Distortion, Dirty Boulevard, Vagabond Radio, Thursday Night Psych, and whatever it is that Circus Brown does on Fridays - I am a KRCL night owl. Thank you!
Anonymous - Thank you KRCL for being coordinators for the community. Well wishes to KRCL and especially the Confederated Tribes of the Goshute Reservation. May our communities continue to persist and resist, and may we continue supporting each other as we are able.
David Simon - Thank you all at KRCL SO MUCH for doing what you do. Here's to another 40 years of killer music -and community lovin'... Love you... :o)
Anonymous - It's been a rough time since March. Thank you KRCL and John Florence for playing music that eases my weary soul.
Ray Cannefax - Listening to John's Brand New Day has been a daily routine for God know how many years. The tunes he plays are classic as well as unique and music I'm just learning about after a life of appreciating good music dating back to Laurel Canyon days when songs were often written and arranged in the cafe or outside the store at the bottom of the canyon - a magical period in time, without doubt. Along with great tunes, Professor Rock & Roll, John Florence provides details about the songs, the artists, the time during which tunes were created, that you just won't get anywhere else.
Thanks for streaming and allowing me to continue to listen to KRCL and It's a Brand New Day when I'm at my new digs in Moab or while I'm roaming the great deserts that make out south-east Utah. I'd be lost without it. Thanks to KRCL's stream, Not All Who Wander Are Lost!
To all who may hear this, please part with a few buck of your hard earned dough and make a contribution to the greatest radio station on earth. Karma will return your contribution with interest!
Torie Okamura - Thank for being on air & doing your own thing for decades.
Michelle Mulder - One of my favorite things about living in northern Utah- Krcl
Mark and Lori Wheatley - You fill our day with hope and joy. Thanks, KRCL!
Robin Ljundberg - Yo KRCL,
I am a sustaining member but I am sending a little extra since I am lucky enough to be still working from home and listening all day. Keep the Faith Baby! We'll get through this together and thanks to KRCL for making it a little easier.
Kellie Mieremet - Thank you KRCL for being the soundtrack to my life. John, you make my mornings! Sincerely, longtime donor, Kellie (already a sustainer, still like to show my support during radiothon)
Doug Drolett - Great music and daily positive vibes all year round
Lee Badger - Waking up to A Brand New Day is one of the best things about living in Utah. Keep up the great tunes.
Joh Roskelley - When you consider the great community resources we have in a town the size of Salt Lake City--KRCL, the Salt Lake City Weekly, the Salt Lake Film Society--it's easy to lose sight of the fact that we are truly fortunate. Having traveled extensively around the country as a family totally dialed into seeking out these types of community resources, trust us when we tell you many cities twice our size and larger have nothing by way of comparison. It is the rare day we're not tuned-in to KRCL. Thank you for helping each and all of us keep our sanity the past several months. John, Zen, and Rex Roskelley
Joelle Dickson - Thanks to all of the hosts for their hard work programming from home and keeping me company and connected to my community. We will get by :)
Mary Tuttle - I can't, and don't want to imagine my life without KRCL! Thank you so much for ALL you do!
Mike Hunter - Saturday Sage is like a life saver! Thank you
Aaron Ashcraft - Keep on Rocking in the Free World!
Sarah Coughtrie - I'm the cheapest person you'll ever meet, but I couldn't not donate to KRCL. Love your unique and diverse programming, love the interviews and the communities you support, and love the music! Keep doing what you're doing, the world needs you more than ever right now.
Samantha Nania - KRCL is always playing on my radio at home and in my car. I moved here just under 2 years ago, and felt at home once I found this station. I love how it connects me to the community and keeps me involved more than I could've ever been on my own. Love you all!
Mike Turic - I lived in Salt Lake City Utah for 30 years I've been a sustainer many times and sometimes I've had to stop and I live in Northwest Arkansas I love listening to you guys while I work thank you so much for 40 years.

Mark Pepper- At one point I heard that so many are listening but only few contribute. It seems like a small ask for the joy I get out of it.
Dan Carpenter - I have been in Utah for 22 years and the one constant that has never changed is the reliability of KRCL to deliver the best local and national music and sense of community that makes this place feel like home. Keep up the good work and I will be listening for as long as I am breathing our polluted air!
Rusty Miller - From a listener in South Carolina: A Brand New Day is the wallpaper of music for my mornings. I am _not_ a morning person. So listening to John Florence's avuncular welcome from two time zones away makes me feel like I've gotten up on time, ready to embrace the day -- and that it is possible that everything's gonna be okay. Thanks to him and the entire staff for making me feel that way, day after livelong day.
Brian Higgins - A few months ago I heard Kitty's Back by Bruce Springsteen on KRCL and had to extend my drive by seven minutes for an epic jam sesh. That experience alone is worth $100.
Kristin Urry – I have been listening for 40 years and during the pandemic it has really helped me.
Julie Edwards - Thank you, KRCL, for keeping great music and local voices on the air!
Shell Danis - Thank you Eugenie for supporting female voices. I vote Women Who Rock should always be an hour long! It is a treasure and I donate because I want to make sure and secure that this feature is around for a very long time. _ Anyone who was at the capitol when Lucius's voices filled it up, and got to feel that power should donate NOW! That was dismantling the patriarchy with music and needs to happen as much as possible!
Rebecca Conant - Thanks to the great John Florence for all the great music, music history and commentary. And everyone else at KRCL that help to keep this world sane and tolerable!
Jessica Reimer - Love the music, love Radioactive! Thanks for all you do for the community.
Hannah Owen - KRCL IS THE BOMB!!!!!!
Chelise Floyd - My drives would be so boring without KRCL. I love that I get such a variety of music in one day plus interesting conversations with Radioactive. Thank you all for sharing your love of great music and community with us.
Annina Mitchell - You are doing a great job during extremely difficult circumstances. Keep it up!
Marianne Burbidge - .20 cents a day is all it takes to be a sustainable contributor and is worth some daily music rejuvenation to my soul. Thank you.
Larry and Annie Ritchie - KRCL comes on has soon as get my first cup of coffee and generally stays on until dinner when I am home. Only preset button in my car. Love the station and the staff and miss the volunteering opportunities and the pick up party.
Nancy Goodell - Thank you for providing me 40 years of community radio!
Callie Chyvonne - I appreciate all that you guys do over there and I am grateful to get to be a listener. I learn so much about what's going on through Radio Active and discover so much wonderful music. Thank you! :)

Carol Stineman - Love KRCL! All sorts of music - and no commercials! :)
Anonymous - I decided to donate again this week, because I really appreciate how KRCL isn't afraid to stand up for social justice in a conservative state.
Renee Kuhn - I've been listening since I moved here in 1998 and haven't stopped. Thanks for all you do!
Mark Cantor - KRCL has shaped my life over the past 40 years! Thanks KRCL!!!
Jordan Clayton - Keep smiling, everyone! Sending a little love to KRCL
Bruce Villard - Long time listener and supporter love you guys wish the soul party was all day on friday like it used to be but some is better than nothing cause nothing from nothing leaves nothing lol
Sarah Jordan - I enjoy being able to find out about new music, as well as listen to everything else.
Drew Trunk - The only radio station worth listening to in Salt Lake! Love the new music, old relics, and thought stimulating programming.
Jeff Gellner - I love KRCL, all the programming.
Susan Sharp - Thanks for adapting to continue airing during the Covid shut down! You are indeed "essential workers"! Here's my donation as a thanks for not missing a beat!
Janean Parker - Thank you for providing a soundtrack to my days. It replaces the background noise I miss, working from home.
Karen Baker - Love Ebay's analogy of KRCL being like sharing music with a friend. In the early 80's my brother and I would mail each other home recorded cassette tapes of music we liked, back and forth at college.I was at University of Michigan and he was a year ahead at Michigan State. It was a little contest of who liked the coolest music. I always hear the coolest music on KRCL. So glad I discovered the station when I moved out here!!!
Candy Youngdoff - Lucky me-I get to listen to KRCL online from Sacramento CA! While I lived in SLC for five years, KRCL kept me sane-the level of community involvement, the coverage of progressive politics, the top o' the line DJs, and the AMAZING MUSIC!!! If you listen, you are a part of the community, and can spare a dime to keep KRCL doing it right.
Shell Danis - My humanity has leveled up in the last five years since I have started listening to KRCL - ESPECIALLY RADIOACTIVE. Lara, Billy, and the rest of the awesome co-hosts and volunteers. Thank you for doing the foot work to center and amplify the voices in our community who truly deserve it. Ya'll are truly making the world a more beautiful, equitable place. I wouldn't know my neighbors without you.
Sue Gerber - Hey KRCL fans, become members of the good trouble club!
Bryan Hoechner - Wants to give a shout out to laura and billy they are the highlight of his week. :)
Kerri Hopkins - I can't imagine navigating this crazy time without KRCL and RadioActive!
Doug Prowse - I am motivated and inspired by Laura Jones comments of why a Free Radio service exists. It is safe place for the unrestricted expression of ones freedom, liberty, community, culture, courage and colors. When listening to KRCL, I hear the tears, fears, despairs, hopes, laughter and happiness of peoples who are the soul of my country. My country does not have a single voice, it is a load sweet melodious mixture of many voices, not one, many, no one speaks for everyone. Thank you all for your valiant effort and commitment in allowing us to hear and feel the pains, pathos, poems, purposes, pleasures and pride of a people.
Paul Tucker - You guy's have been my life line since 1979. No one does it like you do. Miss seeing all the folks when I used to come down and pay my pledges off, But I know that we will get back to that soon. This state needs this station, now more than ever. All the Love, Paul Tucker.
Donna Bradshaw - I LOVE KRCL! I've been listening since I was a kid and it's always fresh and new! You got best DJs I have to say. Keep it up!
Chris Magerl - Thanks for all you do. You make Utah a far, far better place.
Derrek Wright - It is the best station in the west. Well done brother.
Brian Weiderman - I love the variety of music! Keep up the great work for another 40 years!
Kim Romang - I love everything about KRCL....
Stephen Bialkowski - I've listened to KRCL since they first went live (and subsequently had their equipment stolen). Now living in the Cache Valley, I installed an FM roof antenna for a while. The internet age has transformed everything... in a good way. This donation is in appreciation of KRCL's persistance and commitment.
Mike Nielsen - I love all the different genre of music playing ON KRCL.
Jackie Vatsend - I love John Florence in the morning. It is a great part of my morning commute.
Charlie Christensen - Glad to support Radio Free Utah. Thank you so much and bless your hearts.

Michael Lauber - Keep up the great music! I Love A Brand New Day - it's the perfect way to spend my morning. I tell my friends all over the country that the best community radio station is KRCL!
Martha - I'm home retired and I wouldn't know what to do without KRCL is my music life line.
Wayne McCallum - i listen 50 to 60 hours a week probably more. been listening since around 1986. the evening dj's do a great job with their diverse spin on music. the daytime crew does well also. thank you for your efforts.
Eric Reynolds - I've been listening since 1980...Fret and Fiddle, Dreadlock Holiday/Smile Jamaica, Mad Hatter's Tea Party, No Guarantee, Touch the Earth, Friday Attitude Adjustment Session, Behind the Zion Curtain, Aural Decay, both Sages, Living the Circle...I think I've listened to everyone and everything and my music collection shows it. I've moved away a couple of times and never found anything like it (DC area nor Santa Fe). Still have lots of promos; purple henley, fanny pack, shirts galore, the hand drum, mugs... KRCL is definitely the soundtrack of my adult life.
T Walden Morris - Ten Year Member listening in Missouri. Found KRCL in 2010 upon moving to SLC for contract work. KRCL and Utah changed my life. KRCL is kind of like living in the La France Apartments on West Broadway (always a LaFrancian) - once you are a KRCL listener you always a KRCL listerer no matter where you go. KRCL has been there since, in the last ten years (twice living in SLC) and in all the other places I've worked (Los Angeles, San Diego, Oakland, Florida, Texas, Oklahoma & Pennsylvania). KRCL is my music rock. Rock on!
Randy Hughes - KRCL is part of our life! Almost daily...Shout out to John in the morning, Eugenie and Ebay. Plus Amy on your Board of Directors.
Juanita Washington - I love John and appropriate John and the music he puts together each day! John works hard to provide community with rich and divers stories of knowledge that I find super interesting and insightful. It is these finer things in life that add to a richer more fuller life for us music lovers. Thank you John!
Kate Reymann - I was driving to the grocery store the other day and for some reason I could not get KRCL to load and it was awful. All other stations paled in comparison. Losing this station would be devastating. Thank you for keeping us all going during the pandemic. I don't know what we would have done without John, Eugenie and everyone to keep us company.
Kevin Schneider - krcl is the best. In existence the entire 20 yrs i have been here and i am very grateful for all the music it has brought into my world.
Mo Burki - Thanks for the great music and always thoughtful narrative!
Traci Mellon - Hey lovelies! Hey John Florence!! Thanks for all you do to keep us groovin'
Here for you as you are here for us! All together now.
Jonathon Balk - Been listening since high school and my radio dial is practically glued to 90.9
Danielle Crumb - Love John and a Brand New Day! I am always listening to KRCL! What a fantastic community! Keep it up!
Dan Noonan - I live in AZ and here taking care of my Mom. Thank God I found your station.
Hannah Orrock - As a delivery driver, KRCL is my only coworker - how lucky am I? I discover so much new music on KRCL, and my life would not be as enriched without it.
Mike Turic - I lived in Salt Lake City for 30 years enjoy the radio station been a sustainer many times I've now moved to Northwest Arkansas where I am enjoying listening to you guys on the web kiss me find memories of you still living in Utah
Evan Richards - I've been listening to KRCL since its birth. But after buying a car with satellite radio, I forgot about KRCL, the station that introduced me to so many incredible artists, the station that has the local community in its heart, the station that gives a damn. A few days ago, my daughter texted me from Washington, DC. She was listening to KRCL using Sonos Radio. I tuned in and Dave Brubeck's Take Five was playing. Thanks to my daughter, I've let my satellite radio subscription expire and now I'm tuned back in to KRCL. I'm home.
Evan Sugden - As a native, recently returned to planet Zion from living abroad and in other states for many years, I have always appreciated the role KRCL has played in the cultural evolution of Utah. Whereas I used to stream it occasionally when living elsewhere, now KRCL is my everyday background to life. Community radio is one of the most powerful and vital tools we have in moving into the future. Thanks for keeping it alive.
Holly Romanelli - Its the only station to listen to and informative. It has all kinds of music to listen to.
Damian Dingley - A little booster for these tricky times. Keep on keeping on and doing all the great stuff you do!!!
Ma Black - I love all the women DJ's at KRCL. I am donating $100.00 to plant @TREE in honor of all the woman who rock that are not longer with us. All the women in music that have passed and were not giving the platform they deserved. Thank you KRCL and WOMEN WHO ROCK for giving all female and women a platform to express our music and for giving a voice to the voiceless. Thank you for making KRCL my home. LOVE MA.
Bruce and Sarah Maddocks - We would encourage anyone listening to contribute something, anything. Love your music, keep it up. Thank You.
Nancy Ballard - Public Radio is an incredibly important outlet for different varieties of news and music and all things important.
Michael Bunds - You all rock! Love KRCL, and my favorite show is Women Who Rock (so I was careful to donate just after noon). I cannot get enough of it. Long live Chrissie Hynde. We can't wait for our friend's band to play Message of Love at our wedding!
Amanda Hale- Thanks for being here, especially in 2020! I love KRCL because it helps keep Salt Lake strange ???? loves to all my strange, salty angels
Tristan McKay - Love KRCL, keep up the great work everyone!
Colin Harris - Thanks for the variety that can only exist without corporate agenda.
Richard Bush - Thank you to everyone on the amazing KRCL team for everything you do to keep us together while we are socially distanced!
Karen Jensen - Love all KRCL 24/7
Brent Anderson - Shanna Lee on Saturdays is my favorite. Thanks!
Able Serrano - I love KRCL I been listen for a long time, my mother introduce me to the station and I love it.
Alex Borichevsky - Been listening for 20 years! Love all the fresh music! Keep it up KRCL!
Brian Fryer - I'm a sustainer but I've really been relying on KRCL more in the last months. Love to hear the community voices while being more isolated. Thanks for being there now and all these years!
Craig and Carol Bennett - We love women who rock!
Kelly Hannah - Hey! This is Kelly Hannah at Eightline Real Estate and I'm stoked about Kevin Coyle's support of the station and his match prompted me to donate today! Thanks Kev!!! Of course, I also support because KRCL is todally RAD!
Felecia Maxfield-Barrett -We love how KRCL makes the world a better place! Thank you for giving us amazing music, and thank you for sharing Utah's amazing community voices.
Susan Hansen - Love the music, love the political and social commentary...Utah's only true radio station!
Scott McCormak - Thank you Ebay! I love the Friday Soul Party and put on my Soul Party T-Shirt every Friday from last Fall's pledge drive. I have a drawer full of KRCL t-shirts and I'm adding the Summer design this time around. KRCL has been an important part of my life since I moved here almost 30 years ago, and looking forward to spending another 30 as a loyal listener and contributor. Keep it up KRCL!!!
Justin Mool - KRCL always keeps me out of a music rut. Thanks for everything you do.
Christopher Glade - Thank you for helping me keep up on new music and local artists!
Danielle Stevens - I'm from Utah but have lived all over the world, and there is no radio station like KRCL anywhere else. I've learned about so many musical artists from this station and the eclectic vibe of all the programs is unmatched. Radioactive is an incredible resource for learning about what is happening in our community, and hearing perspectives that don't necessarily make it to the mainstream. If you love KRCL, it adds value to your life, and you haven't donated yet, what are you waiting for? KRCL is one of a kind. Keep it going.
Traci Mellon - Thanks Ebay!! Friday Soul Party is the happiest point in my work week!!! Gets me through to the end of the day with a smile on my face and sometimes a bit of dancing at the keyboard. :-) Great for WFH groovin' Appreciate you!
Kenneth Price - Thanks Ebay for your Friday Soul Party. We have pandemic Friday listening to your program. We drink, smoke and play board games. We look forward to Friday afternoon but listen to KRCL all the time. Thanks from your friends Ken & Sherie in Ogden.
Dave Anderson and Linda Smith - 90.9 FM is preset on our radios and in our minds.
Keep Up the Sweet n Salty Good Vibes with Music, Commentary, and Community. Linda, Dave, and Sydney woof!
Talia Keys - KRCL is the soundtrack to our lives. For generations passed and those yet to come. It's a gem and has been our saving grace especially during Covid. Soul Party, RadioActive, Women Who Rock, Good Vibes with Shell AND SO MUCH MORE! thank you! - Talia and Melahn
Scott & Gina Riggs - So glad to have KRCL on air in these uncertain times, we need your truth and positive vibes. Keep on keepin' on!
Greg Kelly and Lisa Hilden - Love, love, love KRCL! Thanks for helping stay connected to our Salt Lake Community.
David Wood - Thanks for the vibes and all the songs filling our air. One of the best parts of my job is being able to stream KRCL in the background. Keep on keeping on down there by the Great Salt Lake.
Karin Boyer - KRCL is a great radio-station and so refreshing to listen to whenever I turn it on. A bit different from other radio-stations. I am so happy we have KRCL here in Utah!!
Samantha Heim - This is my first time becoming a sustaining member of KRCL. And, honestly I look forward to Friday because I love to get funky, and KRCL knows how to get funky and what a way to welcome the weekend!!!
Jill Haslam - At least half of my music collection comes from artists that I first heard on KRCL. KRCL has become a constant in my life and I would don't know what I would do without it!
Marcie McCleary - I couldn't hold off any longer when Aretha began singing Chain of Fools!
KRCL is like a lifeblood for me - I have it on all day while I'm working, eating, doing my at-home exercise, or just hanging! Thank you in particular to RBay, Eugnie,John, Laura and Billie - all awesome and inspiring people!
Joe and Bonnie Ungvarsky - Detroit Joe and Detroit Bonnie want to thank EBay for always boosting our spirits with the Friday Soul Party. Motown forever!!! An additional thanks to all of the DJ's for their dedication to the community by constantly spinning disks for us through these trying times. Stay Safe!
Marcia Hansen – Krcl has always been on my dial. Now that I'm retired it's my morning inspiration.
David Marks - I think it is great. All you guys are great.
Patrice Isabella - Love KRCL and miss being there for Radiothon!
Janice Torck - I love KRCL. When we move to Salt Lake City and we ran across the KRCL radio station. In the morning we always listen to John Flroence. This evening it was so awesome, the songs I grew up with. I heard songs I do not hear very much anymore. I heard Cannonballl Aderly band play Mercy, Mercy so I I had to call and make an extra donation. Thank you to Ebay - the program tonight was awesome.
Matt McNally - I LOVE KRCL EVEN MORE THAN CHEESEBURGERS! Not as much as coffee though. Thanks for all you do KRCL!
Brian Coburn - KRCL has continued to expand my musical mind with artists I have never encountered before and with deep cuts from artists I already love. Thank you for always being the multitude of creeks, rivers, and babbling brooks, in a world of main streams.
Lindasy Parsons - KRCL has given me a sense of community. Especially in the times of Covid19. Has kept me connected to the outside community. Has been the backbone to me for many years . Its a worthwhile cause to contribute. KRCL is such a unique music experience.
Ashley Pizzello - Keep on rocking!
Emily Means - I'm so grateful for the work KRCL does in amplifying community voices -- and playing gooood music. Special thanks to Lara, Billy and the whole RadioActive team!
Wendi Elton - KRCL is the only place you go hear such an eclectic variety of music. Get the important information about your community and get information on how to become involved. I love it!
Gary Greaves - I've listened for 40 years and enjoy the amplification of diverse local voices.
Here's to 40 more!
Rebecca Christman - My 11 year-old son is making this donation on my credit card--Rebecca
My son, zarnicov, says: "KRCL makes car rides much funner!" (BTW, zarnicov is his gaming name.)
Cecelia Firpo - It is one of the last true radio shows. It plays all day with different DJ it does not use a randomized tracked list all day everyday. It is nice to listen to music that are not currently popular in society. I would have never learned about amazing bands if not for this radio. This radio took me out of my music comfort zone and should me music I would have never listened to otherwise.
Olivia Juarez - I donate to KRCL in the name of good music, like the Black Angels and every other band I know and love thanks to the DJs on KRCL every night. If your own music library has grown thanks to KRCL, then $end it!! $$$$$
Kathryn Sampson - Thank you all so much for what you have always done and continue to do for our community. You bring comfort and hope by bringing us all together at a time where we are actively being torn apart. This is extremely important work you are doing and I am grateful that I am one of the few able to give a little extra to help keep things moving. Thank you for the smiles, the car singing, and making me feel like I am a part of something big and wonderful.
Marijean Woolf - I love Breakfast Jam and Shannalee! Thanks to KRCL for keeping the music going!!!
Elizabeth McKnight - I think KRCL provides a delightful normalcy during these challenging times
June Hiatt - Thanks for all you do KRCL. Love you all!!
Kathryn Holmes - Can't imagine getting through this pandemic without KRCL and Saturday Sagebrush Serenade. Thanks for supporting the community with great music always, but especially during this time.
Amanda Kavanagh - I listen to KRCL everyday. Thank you for all you do.
Greg Cropper - Love how I get to show my friends that Saturday Sage is...THE BEST RADIO EVER!!!
Paul Kelly - Been listening to John for a very long time, even when living in Vermont. Keep up the great work!
Renne Zollinger - John Florence and KRCL are national treasures.... A moment of peace each day in a Covid World. Thank you for being there for us.
M Horner – KRCL keeps us sane!
Frank Pultar - I have been a listener for over 15 years,and I have never been disappointed when I tune in.I always learn something be it news or some music history.I just want to say Thank You All,for all you DJs in the past,now,and in the future.
Karalee Taylor - I have discovered many new, great artists through KRCL. I like the variety of music with the blend of old and new. Keep up the good work!
Steve Hewson - Love Saturday Sage and Bluegrass Express!
Mark Kaplowitz - tough times call for the anthems of our youth... thanks
Jennifer Neal - There are days when your voices are the only voices I ever hear. Thank you for continuing to be there as a truly independent reminder of all that is possible. Xo
Cathy Mullaly - Long time listener and supporter. I think this station does a phenomenal job, not only with music but public affairs and community events. I couldn't have a good morning without listening to John Florence. He is the best! I hope more people see the value of donating, to keep you going another 40 years!
Steve Nielsen - Everyone should support John Florence. He spends a good amount of his time volunteering at KRCL. He left but came back. Utah always does that to me. The information found here is invaluable.
Rich Taxwood - Thanks for being there
Brad Crabtree - There is nothing like carefully crafted or even randomly thrown together sets of music by fellow brothers and sisters. May the human element of people creating and sharing music together always be important to nourishing your soul.
Brian Young - To everyone at KRCL, past, present and future: muchas gracias for all you have done for me and our community, especially over the 24 years I've been listening now.
John Florence: I love all your shows, but especially when you do Saturday Sage. Long life the Southwest music scene! That's some of the best we've got to offer the world. Thanks for doing your part to spread it!
Georgina Simmons - Krcl Is the best radio station hands down! I have been listening since I moved here many years ago. This station keeps us informed of the best music, old and new. KRCL binds our community. Thank you. Love you, John Florence!! Keep krcl rolling, and donate if you can.
Lindsey Wells - Thanks to the constant quality programming by the wonderful KRCL DJs, this Covid quarantine time seems a bit more normal.. Thanks for helping us all to get through this difficult time with the soothing sounds of community radio.
Charles Pigg - When I tune in to the music on KRCL and listen to the community action shows and listings I feel I am joining into a community of conscious people who are constructively working to better our lives here. I like all the varieties of music played every day and count on KRCL. Donate and help grow this wonderful resource!
Greg Kelly and Lisa Hilden - Enjoying the music today John. Just heard from a fellow transplant from SLC to Albuquerque. A great guy! Partied and donated with Ebay yesterday, just had to share a little more love. Oh, speaking of great live albums, Cheap Trick, Live at the Budokan is a fav! My first concert in SLC: Head East, Uriah Heap, Cheap Trick & Rush. Looking forward to live music! You're making me a little homesick... Take care & Thanks!
Anne Hart - Best Radio Station EVER!!! Best DJ's EVER.
David Cummins - Relocated from LA years ago, and discovered best radio station ever heard and it was the best resource to the community.
Austin O'Shura - Love the music and community roots.
Kristine Woodbury - I listen to KRCL every, single day without exception. I appreciate the time and effort put forth by so many amazing DJ's and support staff members. KRCL literally makes Salt Lake City a better place to live. The contributions of unique music playlists, local artist spotlights, on-air interviews, and political updates add a dimension of hope to my days. Thank you doesn't express how much I appreciate the time and dedication it takes to run a truly exceptional radio station. Much love to you all!
Ronney Arndt - Thank you KRCL for being an integral part of my life for almost 40 years. You are the best!
Jennifer Neil - Im already a sustainer, twice over. I love listening to Smile Jamaica out by the pool. In surround sound. Thank you Ja Robert!
Bob Pruitt - Best radio station in Utah since 1979. Reggae to bluegrass, its all here. Great community resource, and unifying voice for the under represented masses in Utah. Keep on going!
Mary Anne Hoover - I am a fan and Saturday and Sundays programs are my favorites. They make me want to jump up and down!
Steven Briggs - Love Smile Jamaica - it makes Saturday a special day!!!
Joe Crinch - KRCL is just 'beauty truly blessed!!!' You are all I listen to!
You make a difference to this community! Thank you!
Collen Jones - KRCL is a huge gift to Salt Lake and The Wasatch Front. Sending listening love from Seattle! Please stay healthy and WEAR A MASK EVERYONE!
Janice Turcotte - We appreciate KRCL hard work for the community. Big supporters and proud!
Maria Nemethy - Thank you, KRCL, for the community that you create and support. And thank you, Robert -- Smile Jamaica is one of my favorite parts of the week!
Ira Marcus - KRCL isn't the best radio in Utah - KRCL is the best radio in the world! THANKS TO John and Robert for sharing their knowledge.
Keelan Jones - Robert, thanks for bringing the weekly cure for my reggaemylitis.
Joshua Fautin - For all the people that listen to KRCL and if all would come together we would grow and be a better community as a whole. And in helping everyone!
Jimmy Keithley - Independent radio is the school of Salt Lake City music.
Sam Uber - Much love to all. Bless Smile Jamaica and KRCL.
Matt and Laura Snyder - Matthew and Laura listening from Los Angeles. Smile Jamaica is the greatest Reggae Show on the planet! We stream KRCL online. Thank you Robert!!!
Stacie Hofmeister - Tristin, my home girl! Love you and this station. Tuned in on the constant! Always listen, Robert I have grown old listening to you....may it never stop
Trent C - Jah love to you all at KRCL. Helping us through these interesting times.
Keely Heyer - Love you guys! Best memories I have are jamming out to krcl with my dad in my hometown of SLC. All killer no filler!!!
Jack and Merritt Stites - Shout out to old robert he loves his reggae its amazing and also shout to Mc
Tara and Jesse Weeks - Alta LOVES you KRCL! Thank you for ALWAYS being there.
Lane Andersen - We love Smile Jamaica! Thank you Robert! Listener for 30 years plus!
George Osmun - I've been an NPR listener and supporter for decades but have decided to redirect my monthly sustainer contributions to a voice which is less focused on sensationalizing the politics or crises of the day and prioritizes community and music as it's foundation.
Sean Leschke - I moved from SLC in 2012. I still listen every Saturday.
Danielle Aranda - Bobbylon! You led me through my 20's and continue to supply me uplifting and inspiring jams on Saturdays, right when I want them most. You travel everywhere I go and are one of my favorite parts of Utah to introduce people to. Thank you Mr. Montana man. Another decade more please.
Angie and Levi Braithwaite - We lived in Salt Lake for several years and we are now in the La Quinta CA. Its hot as hell today. We stream you every weekend Robert. We love You and Smile Jamaica. I will never forget you mailing me Burning Spear live from Jack's Drumshop. That was such a great show. ONE LOVE ROBERT!!!!!!!!!!
Holly and John Margets - We have been listening to KRCl fodr 28 years! The only raido station there is!! Thank you KRCL!
Corbi Wright - You ARE THE GREATEST!
Jake Serago - KRCL is the heart of the city!
Teri Runyan - Greetings from Great Falls, Montana! Got you on the speaker every week, and you know how much I love and miss you guys! Go KRCL!
Ben Badger - Love all programming really enjoy listening since moving from east coast.
Jared Copinga - What other joy is there in life than music!
Mackenzie Roberts - KRCL is a breath of fresh air when it comes to radio. I try to live by the saying "When in Rome, do as the Romans do" and the same goes for KRCL. "When listening to KRCL, be as you are a local to the music you listen to." OR something like that. I try to keep an open mind and heart, and I feel that 90.9 is able to be the soundtrack to life as it is meant to be lived. With expanded horizons.
Max Andrew - Thurs night psychout is the best , I've tried to tune in every week since i discovered it. No doubt the right vibes to get by in this summer heat. Thanks for the good times.
Brian Booty - I have enjoyed you all for many years. Looking for many years to come !! A dose of KRCL every day makes everything so much better. Thank You All !!!
Charles Levin - Thanks krcl for everything. Love it love it.