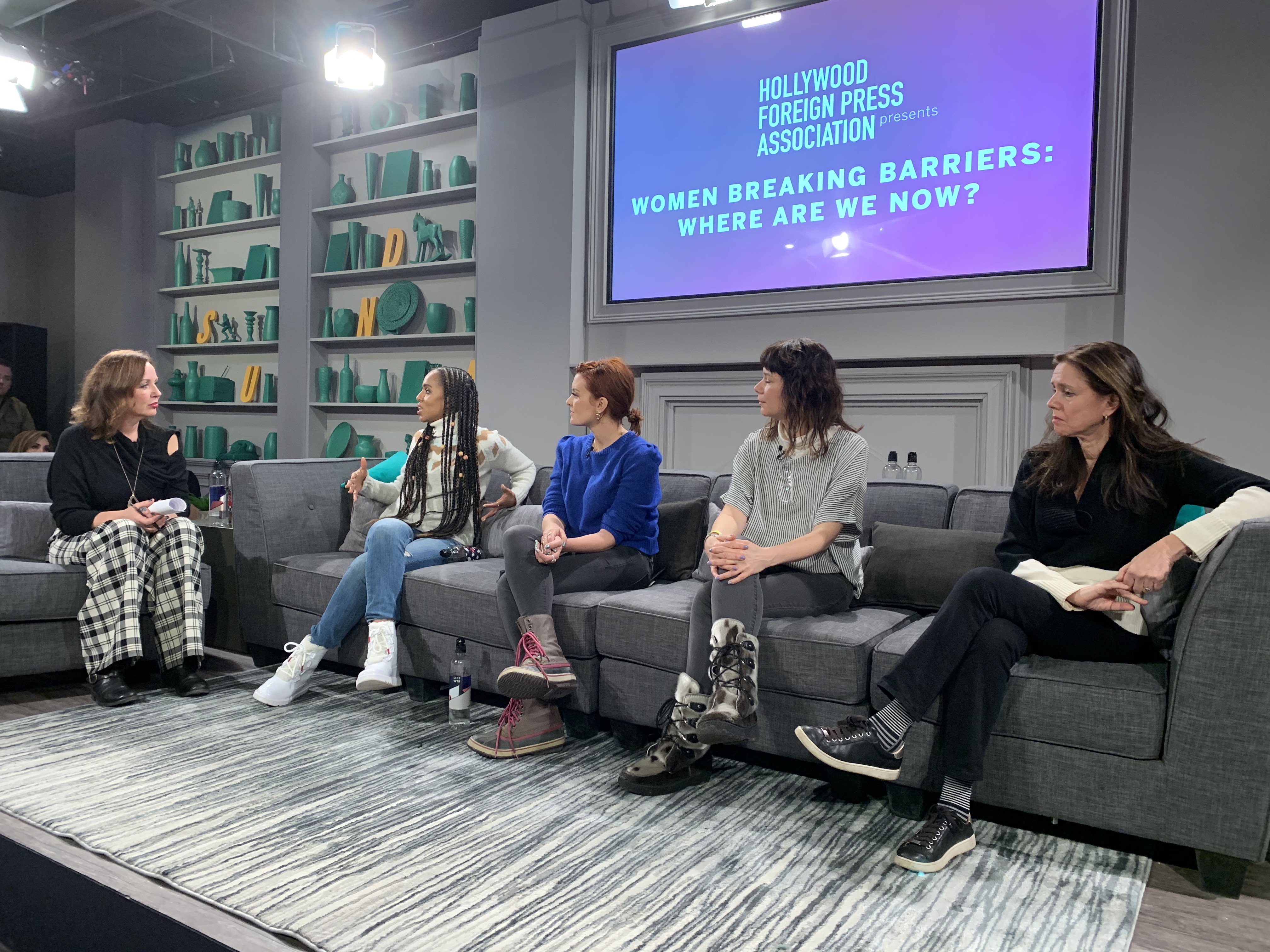 On January 25, SundanceTV Headquarters hosted the third annual Women Breaking Barriers panel. This year, they asked, how far have we come? Hosted inside SundanceTV's cozy headquarters location, the panel took place in front of a packed house. Hollywood Foreign Press Association (HFPA) member Elizabeth Sereda kicked the discussion off by inviting Sundance Institute Executive Director Keri Putnam to the stage, where Sereda announced that HFPA will continue to support the institute's women's program by pledging $50,000. Sereda also asked Putnam for some insight into how the Sundance Film Festival has evolved toward including more women filmmakers.
Putnam explained that 44% of films being screened at the festival this year are by women—a higher percentage than the amount submitted by women, which was 34%. Putnam put out a call encouraging more submissions to the festival by women.
Next, Kerry Washington (producer, "The Fight"); Frankie Shaw; Lisa Jackson (director, "Lichen") and Julie Taymor (director/screenwriter, "The Glorias") took the stage and settled on a couch to begin discussing how far the film industry has come with regard to women and their roles in the filmmaking process, as well as whether the industry is making progress on being more inclusive of people of color and from marginalized demographics.
I particularly appreciated Washington's candor throughout the panel. "I think it will be exciting when the only firsts we are talking about are the innovations in our creative endeavors rather than the identity and the politics of the work we're making," she said.
Washington was referencing the fact that in her role on TV's "Scandal," she garnered plenty of attention for being a woman of color in a lead role, something that hadn't been done in over 40 years. I couldn't help but notice the exasperation of Washington and some of the other panelists as the discussion progressed. Frustration over the fact that the discussion is happening at all, because why is there not more equity in film? Why is there not more equity anywhere? How long will women, people of color, LGBTIA+ community members, etc., etc., be trying to break the "glass ceiling"?
"Women supporting women is the only way. Solidarity is the only way. It's the only thing that's ever instigated change," Frankie Shaw said.
Award-winning director Julie Taymor is responsible for bringing "Lion King" to the stage. This year, she was at Sundance to premiere the film "The Glorias," for which she directed. Speaking to her extensive background in traveling and living abroad in her youth, Taymor encouraged learning more about other cultures and working together. She hopes that the industry can come to a point where artists are working together to tell one another's stories. For example, women tell a man's story, men tell a woman's, etc.
Washington disagreed to an extent, stressing the importance of own voices and encouraging an environment that was more inclusive and allowed space for stories to be told by those who know them. Jackson agreed. "I think we've all experienced when you watch a movie that's about your community and you know it's not an inside job," she said. "There should be nothing about us without us."
By the time the panel ended, I had lots of questions. But I don't think the main question was answered: how far have we come? Not far enough.