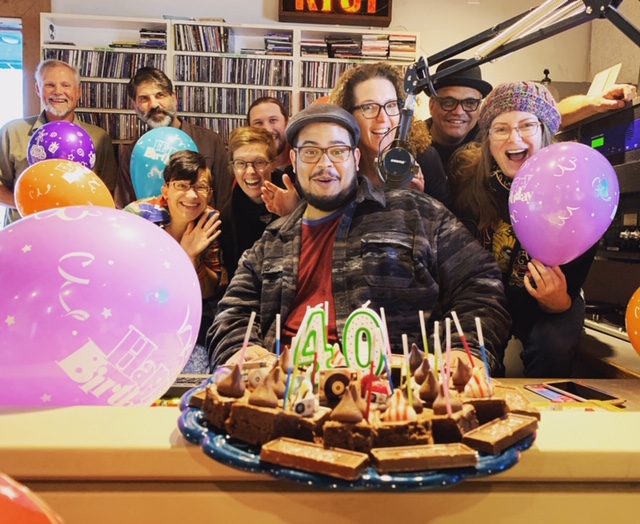 KRCL 40th Anniversary Special orginally aired Tuesday, December 3, 2019 at 3pm.
Special thanks to Joe Prokop and Lewis Downey from KUED for restoring the original reel to reel tapes from 1979.
Listen in here. Follow along with the program below.
First Song Played On KRCL: Pete Seeger / We Shall Overcome / Live at Carnegie Hall (with intro by Stephen Holbrook)
Clips:
Historic First Broadcast in 1979 - Tape One: Edited Interview with the Founders of KRCL (hear the full interview here)
Intro from Robert Flores
Discussion with KRCL Founders:
Guests:
Stephen Holbrook
Paul Wharton
Marti Niman, KRCL's first Program Director
Carmen Boutet, KRCL Board Member
Interviewed by Joe Redburn
Outro Robert Flores
Clips and Songs:
Historic First Broadcast in 1979 - Tape Two:
Tom Carlin & Joe Redburn - Program for Senior Citizens
Second Song Played On KRCL: Van Morrison / Checkin It Out / Wavelength
Third Song Played On KRCL: Van Morrison / Natalia / Wavelength
Clip: Kurt Fisher - Wasatch World
Fourth Song Played On KRCL: The Voices of East Harlem / Soul to Soul
Phone Messages #1 and #2
Songs:
The Replacements / Left of the Dial
Elvis Costello / Radio Radio
Clips:
Jimmy Hamamoto's last All-Weather Radio show from 05/29/1993
Transition from Dave Santivasi's Aural Decay to Otis Baker's Perpetual Change 01/30/1992
Mr. Baggins hosts Saturday Sagebrush Serenade's Christmas Special on 12/15/1993
Barb Guy's Generic Radio - Nuclear War, Death, and Destruction edition on 11/06/1984 - (it's Election Night; Reagan is being reelected)
Songs:
The Clash / Know Your Rights
Bob Marley & The Wailers / Smile Jamaica
Clips:
Myron Fairbanks' on Smile Jamaica from 04/27/1985
Chris Gittins, Mr. Baggins, and Hugh Garner with a G-Men show promo (no date available)
Phone Messages #3 and #4
Songs:
Neil Young / Rockin in the Free World
Tom Petty / Last DJ
Phone Messages #5
Jimi Hendrix / Little Wing
Phone Messages #6
Frank Zappa / Peaches en Regalia
David Bowie / DJ
Phone Messages #7
Cannonball Adderley / Mercy, Mercy, Mercy
Aretha Franklin / Think
Phone Message #8 and #9
Simon & Garfunkel / I Am a Rock
Bonnie Raitt & John Prine / Angel from Montgomery
Clip:
John Florence explains the beginnings of "Meditation for World Peace" on KRCL
Songs:
Nick Drake / Introduction
Kate Wolf / Medicine Wheel
Phone Messages #10 & #11
Bobby Osbourne / Bluegrass Express
Ani DiFranco & Utah Phillips / Joe Hill
Phone Message #12
Tony Rice / Urge for Going
Phone Message #13
Clip:
Amplifying Women's Voices Rally at The State Capitol with Lucius on March 8th, 2018
Lucius / Women (Live on KRCL from The State Capitol)
Phone Message #14 and Message from Troy Williams
Clip:
Interview with Amy Ray of Indigo Girls about her KRCL inspired song "SLC Radio" on Feb 2, 2019
Amy Ray / SLC Radio
Clip:
Brad Collins on Radioactive 08/22/16
Phone Messages #15, #16, and #17
Song:
Sam The Sham & The Pharaohs / Wooly Bully
Leon Russell / Roll Away the Stone
Phone Messages #18 and #19
Songs:
Pixies / Palace of the Brine
Purdy Mouth / Salty Town
Phone Message #20
Songs:
Doug Wintch / Salt Lake City
Grateful Dead / Friend of the Devil
Clips:
KRCL General Manager Tristin Tabish introduces two of her KRCL Essential Songs
Joni Mitchell / Big Yellow Taxi
The Flaming Lips / Do You Realize?
Phone Messages #21, 22, and #23
Warren Haynes and Mickey Raphael / Soulshine (Recorded Live on KRCL Nov 4, 2013)
The Staple Singers / I'll Take You There
Clip:
Gianni, host of Dirty Blvd, introduces his KRCL Essential Song
John Lennon / Instant Karma