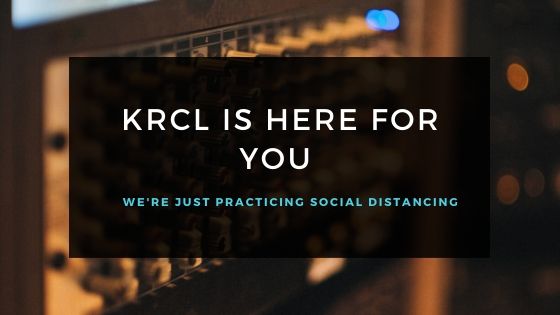 With the ever-changing health landscape due to the COVID-19 pandemic, KRCL has made the difficult and necessary decision to keep KRCL volunteers, staff and visitors at home for the next couple of weeks. As a community radio station broadcasting in this new world of social distancing, we are operating in uncharted territory. We do not feel it is responsible of us to ask the general public to stay home, but require hosts and staff to come to the studio.
What does this mean for KRCL's listening community? You'll still hear the best music and familiar voices. KRCL DJs will still program daily music mixes. When possible, the nighttime and weekend DJs will still curate their shows, but they won't be broadcasting live in the studio.
For now, the Radioactive Team will still be providing updates weeknights at 6:00, and they have also posted a lot of useful information regarding COVID-19 on our website. Click here. You may also call ‪(385) 800-1889 and leave a voicemail to share how you're coping, recommendations to keep the kids distracted, or questions you'd like us to ask the experts. Include your first name and your neighborhood. They'll share your voicemails on the show.
KRCL has been Utah's community-driven radio station since 1979. And as a community we must support one another the best way we can. Currently, that means being together ... but not side by side. In the meantime, KRCL is still here for you. And we believe that community connection is more important than ever. Connect with us on Facebook, Instagram, Twitter and Email. Dial up 90.9fm, stream us from www.krcl.org or listen on the KRCL App.
We thank you for understanding during these trying times. And we appreciate you and your love of Listeners' Community Radio of Utah, 90.9fm KRCL. Radio Free Utah.
"We are stardust
We are golden
And we've got to get ourselves
Back to the garden"