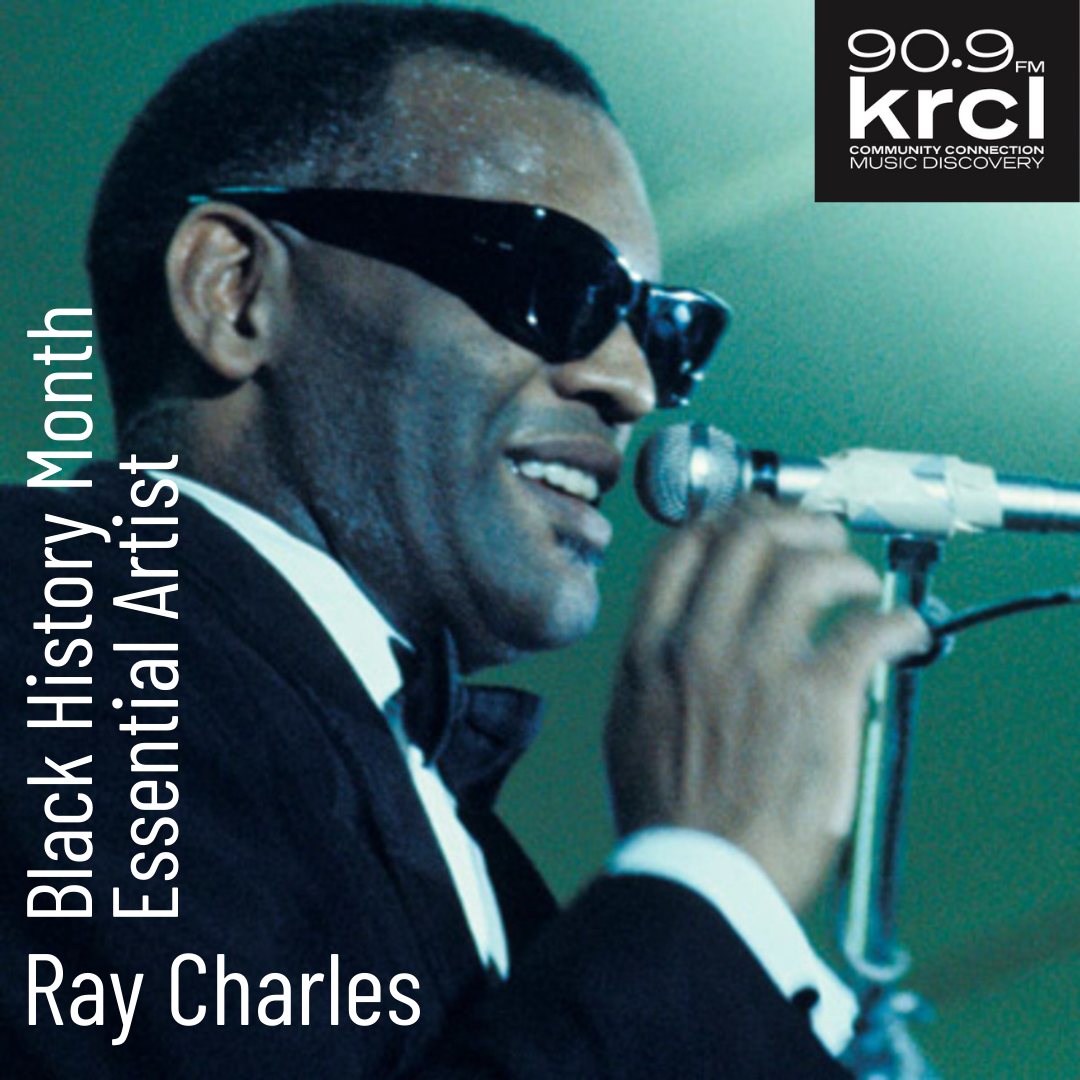 KRCL celebrates Black History Month and the continued influence, and contributions of Black Musicians. All month long we'll be highlighting the work of some of the most influential Black Artists in Music.
Today we feature Ray Charles, the musician most responsible for developing soul music. Singers like Sam Cooke and Jackie Wilson also did a great deal to pioneer the form, but Charles did even more to devise a new form of black pop by merging '50s R&B with gospel-powered vocals, adding plenty of flavor from contemporary jazz, blues, and (in the '60s) country. Then there was his singing; his style was among the most emotional and easily identifiable of any 20th century performer, up there with the likes of Elvis and Billie Holiday. He was also a superb keyboard player, arranger, and bandleader. The brilliance of his 1950s and '60s work, however, can't obscure the fact that he made few classic tracks after the mid-'60s, though he recorded often and performed until the year before his death.
Listen weekdays at 6am, 9am, 1pm and 3pm, as we highlight essential music from some of the most influential Black musicians.
And, at noon weekdays listen for Women Who Rock: Black History Month featuring rock pioneers, MCs, soul queens, divas and more in a celebration of the strong Black women who inspire us.
Today we feature Lizzo. Combining her roots in Houston rap, gospel soul, and classical flute as confidently as she addresses issues of race, sexuality, and body positivity, singer/rapper Lizzo's music abounds with humor and charisma. Her 2013 debut, Lizzobangers, reflected her years in Minneapolis' hip-hop and indie music scenes (Doomtree's Lazerbeak was one of its producers), and as time went on, her style became more wide-ranging and melodic. On 2015's self-released Big Grrrl Small World, she added more R&B and gospel to her sound, a trend that continued on her brash major-label debut and breakthrough album, 2019's Cuz I Love You.