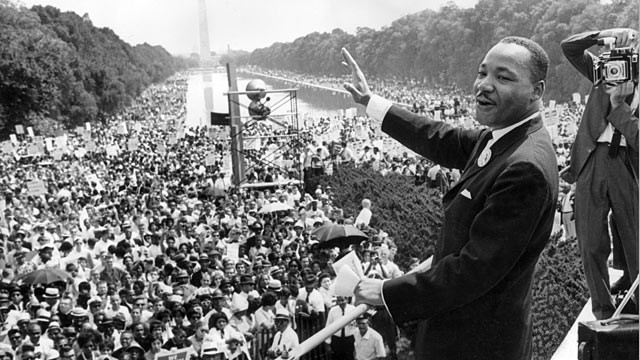 We remember and celebrate the life and work of Dr. Martin Luther King, Jr. Here are some songs that have been inspired by Dr. King and help us to keep the dream alive, not only today, but every day.
U2 / Pride in the Name of Love
"Early morning, April 4th
Shot rings out in the Memphis sky
Free at last, they took your life
They could not take your pride"
Stevie Wonder / Happy Birthday
"We know the key to unify all people
Is in the dream that you had so long ago
That lives in all of the hearts of people
That believe in unity
We'll make the dream become a reality
I know we will
Because our hearts tell us so"
Common & John Legend / Glory
"King pointed to the mountain top and we ran up
One day when the glory comes
It will be ours, it will be ours
Oh one day when the war is won
We will be sure, we will be sure Oh glory"
Mahalia Jackson / How I Got Over
Ms. Jackson sang this song on the steps of the Lincoln Memorial berfore Dr. Martin Luther King delivered his "I Have a Dream" speech.

Mavis Staples / Freedom Highway
"March for freedom's highway
March each and every day
Made up my mind and I won't turn around
There is just one thing
I can't understand my friend.
Why some folk think freedom
Was not designed for all men."
Patty Griffin / Made It Up the Mountain

James Brown / I'm Black and I'm Proud
Recorded in August 1968 in a Los Angeles suburb with the help of 30 children from the Watts and Compton neighborhoods, the song became the unofficial anthem for the Black Power Movement.

Pete Seeger / We Shall Overcome
The anthem for the civil rights movement as well as the first song ever to be played on KRCL.